AN INSIDE VIEW BY BH
JIWON CHOI: Y2K SOUTH KOREAN JEWELRY DESIGNER
No. 16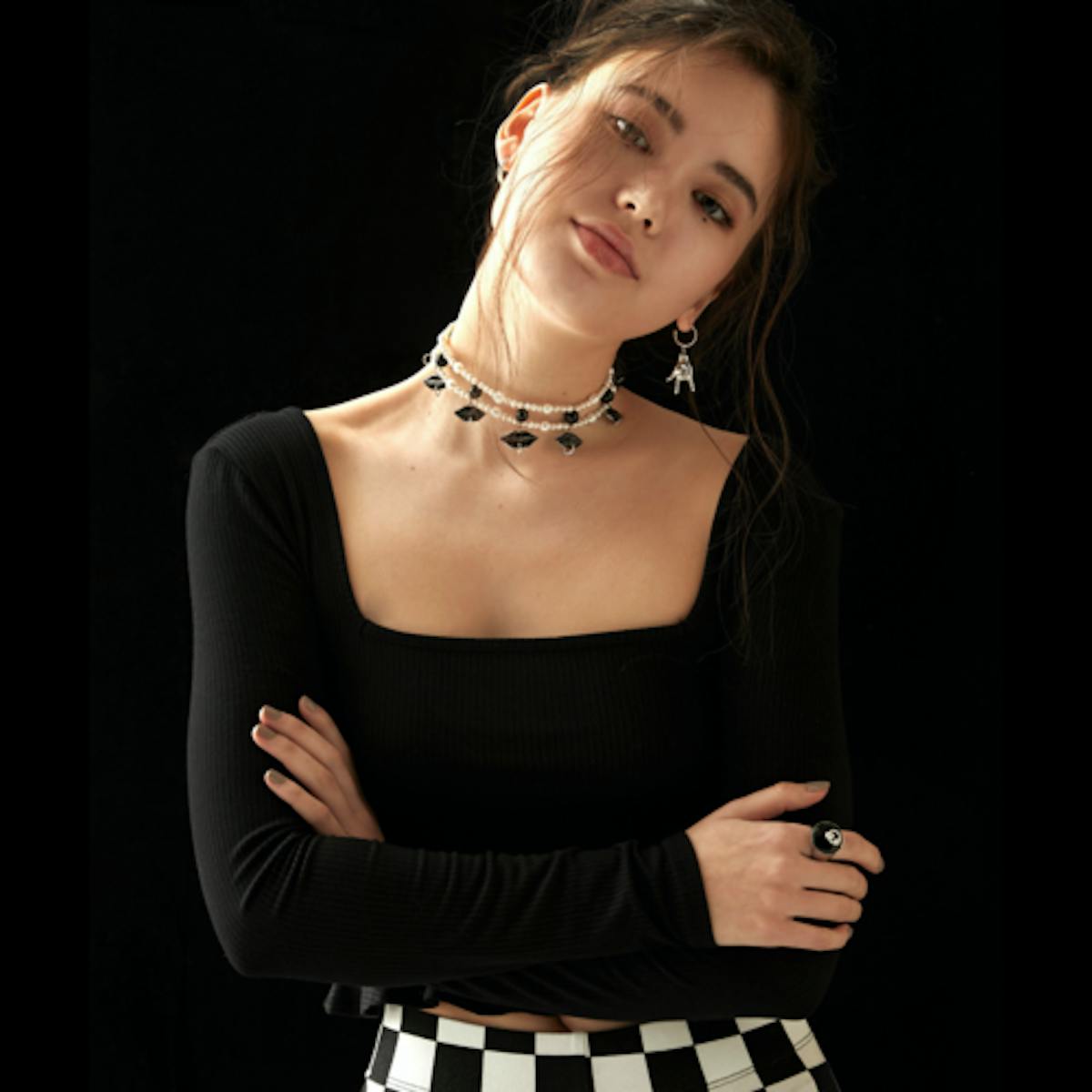 The South Korean jewelry designer breathing Y2K culture into her creations 
Among the latest of cultural exports from South Korea within the last few years — a copious abundance of K-pop album releases, band debuts and tours, stirring K-dramas, and a cultural reinterest in the street fashion of Seoul — jewellery designer Jiwon Choi has been steadily working under the radar since 2017, crafting her eponymous brand. Adopting a playful, tongue-in-cheek approach to her youthful designs, Choi often draws from the sass and headstrong attitudes that permeated the Y2K era, infusing her creative flair with the sartorial tastes of the Depop streetwear generation. While her creations have been recently spotted on stars such as Lizzo (during her Super Bowl SiriusXm Radio Row session), and K-pop idol Lim Sejun of VICTON fame, their casual versatility has lent them an everyday appeal. With a collection that mainly utilises metals such as brass, 18k gold and silver palladium plating, the array of Choi's molded jewellery designs — including barbed wire hearts, skeleton pairs, lucky dices, smileys and middle fingers — are colourfully catalogued on her website and Instagram page, @jiwonchoijewelry.
Despite the eight-hour time difference between us, Jiwon Choi generously joins me on Skype from her home in Seoul. As we chat about our respective lockdown situations, I'm instantly calmed by her relaxed disposition and easy-going smile. Her honey-blonde hair is thrown upwards into a bun, two bleached tendrils softly framing her face. Sporting two of her own designs — the alternating 'Catalina' choker of flat freshwater pearls and brass, and the silver 'rock on' hand gesture of the 'Corna' necklace — she sits at her screen behind white-tipped cat eye glasses: the very epitome of a cool girl. "Growing up in Seoul, I was very much involved in the K-pop world before it became truly international," Choi begins, alluding to the Hallyu Wave that turned global in the 2010s, particularly after Psy's viral hit 'Gangnam Style' was released in 2012. Acknowledging the inextricable link between her creative inspiration and the performing arts culture of her hometown, she recalls, "I've always liked dancing — my jewellery actually started when I was a kid, as a volunteer stylist for school talent shows. I would use polymer clay, baked in the oven, to make permanent jewellery for my girls and boys [on] the dance team." A beam of pride radiates from her smile as she traces her past of participating in annual dance shows and regular evening walks through the night markets at Dongdaemun with her parents. "We would pick out t-shirts that would visually pop out on the stage," she recollects. "So growing up, it was quite natural for me to be more focused on talent shows every semester rather than on studies." 
With her attention concentrated on her artistic endeavours, Choi considers the creative impact that her parents may have instilled and nurtured from a young age. "My parents were involved in the creative fields; my dad worked within the broadcasting industry making TV shows," she shares. "I was always around him and his peers who worked on more serious projects including music videos, which really influenced me." With a laugh, she adds, "then somehow I became interested in furniture, so I studied furniture design at college!" 
The meander into the realm of architecture, interior and furniture design is a prospect that excites me, as a fan of the artistic Bauhaus group, and we animatedly share our mutual love of classics such as Marcel Breuer's 'Wassily' and 'Cesca' chairs. "I was so into making ergonomic chairs, and I guess it resonates with what I'm making right now," Choi explains. "Jewellery is also sort of ergonomic. I wanted to make sculptures — both functional and capable of intertwining with daily life — and became interested in making metal furniture." 
She holds her lower arm within frame with a sheepish smile. "I had a lot of burns on my wrist from welding, and I was always covered in dust — somehow I forgot about my styling background!" she jokes. In tandem with her promising trajectory, Choi's young brilliance led to her internship with the internationally esteemed artist Byung Hoon Choi. Nicknamed the 'father of Contemporary Korean Design', he had been hugely impressionable on the recent graduate, who seems almost rapt as she currently relays her formative experience. "We share the same last name," she notes pointedly. "So everyone thought I was working for my dad! But no, I was just making stuff for him. Byung Hoon Choi makes these very sculptural forms, most often inspired by the afterlife and emotions. They're very grand in size, and because they're so heavy it was hard to lift and carry those things!" she chuckles. A quick Google search of Byung Hoon Choi's work pulls up images of sensational, monochrome pieces that verge on fluidity; gentle and sloped curves juxtaposed against their very dense compositions of stone slabs, granite, clay, and wood. Elliptical and oblong shapes with minimalist finishings are clearly the aesthetic cornerstone of the famed artist; creations that undoubtedly left their influential mark on the young intern.
Following further stints in furniture design, Jiwon Choi gradually became disenchanted by the industry, citing feelings of detachment and alienation. "When I was in college I could create my own brand, and people would appreciate what I had to say, but it wasn't like that in the industry at the time," she relays a little ruefully. Choi switches to a more upbeat tone as she arrives at her current venture of jewellery design. "I had jumped into graphic design because I loved logo-making, and together with metal smithing and welding, I decided to combine these two. I liked fashion, but not clothing. I've never imagined myself as a clothing designer — I was more into shoes, bags, and fashion accessories," she admits. But what, specifically, was so enticing about jewellery that captured her entrepreneurial interest, amongst the myriad of background experiences in other industries? "I think jewellery came out on top in the end, because I was always making useless stuff that you could wear on your head, like headbands," Choi responds. Here, she references her grad school experience at the prestigious École cantonale d'art de Lausanne (ECAL) in Switzerland; an institution that, in her own words, "taught you how to become practical in terms of product design, by hooking you up with all these big brands and labels". While working on her fashion accessory thesis in a Project Runway-style assignment, Choi's work was shortlisted and selected by Pascale Mussard, the (former) director of the petit h department, of luxury French label Hermès. Such a career-boosting feat was certain to propel Choi on track towards a future in accessory design, cementing a desire to continue her spirit of creativity. "I was really shocked, because I felt I had so little knowledge of fashion. There were a lot of French and British designers that I looked up to, and it was extremely competitive," she recalls. "It was the only project that I did on my own without being self-aware about what was happening around me. I was just doing what I loved — like making the most useless visor on Earth! Or an animal mask that you could wear on your head, which was inspired by BDSM," she quips playfully.
Choi drew from her own grounded heritage and applied a pan-Asian sensibility to her designs, using origami geometry, bends, and folds to inspire her 'genderless' animals. The production bypetit hwas limited — showcased across Switzerland, Paris, and Seoul — yet it provided a galvanising confidence to pursue fashion accessories for a living. The only catch was the final price point of the produced pieces; they were too expensive. "I couldn't even purchase my own design!" Choi exclaims, in recognition of the often unattainable standings of luxury goods. "I just realised that I wanted to turn funny, humorous designs and turn them into wearables, and to see how much people would like them. Because I obviously couldn't buy the visors that I made on my own, my branding was influenced by pricing. I didn't want to create a luxury label, but to create something very accessible," she concludes.
When it comes to Jiwon Choi's eponymous line, each jewellery design is a statement in and of itself: fun, bold, and unmistakably inspired by pop-culture and the stylistic uniqueness of the Y2K era. But when I ask about her direct sartorial influences and sources of inspiration, Choi's answer is more personal and intimate; concerned with affairs of the heart. "Corny love," she replies. "Love in general, like heartbreak, and just emotional stuff that you cannot describe in words — at times when words themselves sound too corny." Choi is clearly a sentimental dreamer.  a hopeless romantic inspired by the pop culture she so heavily absorbed in her youth, through K-drama love-triangles and the soul-bearing RnB of the late '90s and early '00s. "I love creating these symbols of romance and playing with the poetic side of jewellery design. And I enjoy naming them, because every piece in a collection is special. I feel like these are little paragraphs to my whole story," she offers charmingly. I list some of my favourite designs: namely the 'Fetish' earrings — heart silhouettes crafted from twists of barbed wire — and the 'Ego' earrings— a large-scaled twin pair of crowned human skeletons — both from her "Raw Thoughts" collection. At these mentions, Choi breaks out into a winning smile and reaches out for something just out of the frame, carefully returning to hold up the 'Fetish' pair close to her webcam lens. She displays them proudly, like an Olympian with their winning medal.
"I created this barbed wire set because I wanted to be very defensive," she begins. "When you find love — or, I don't know, when you're preparing for your date — I wanted to make this amulet to sort of act as psychological armour." It's a fresh and intriguing rationale that pays homage not just to the wearer, but to Choi's geography too: "I would feel very empowered wearing this as I'm prepared to be myself and not someone else. It feels like a shield. I love these barbed wires because I also see a lot of these in South Korea — we have US army bases, where there are borders, so there's a lot of that military aesthetic going on." Choi here refers to her former residence in the district of Yongsan (literally meaning "Dragon Hill"), where a prominent US military garrison stands. It's an institution symbolic of a wider controversial topic amongst the South Korean public, forming the thinly veiled political background of Bong Joon Ho's 2006 filmThe Host, for instance. "There's this aesthetic idea that the barbed wires [around the base] are very dangerous — but somehow not dangerous at the same time... because they just put it up no matter what," she explains with a questioning intonation, grappling with her paradox. "I would always see a lot of American kids going in and out, as there's a school there. And if you went to the park, you'd see the border with barbed wire," she recalls. "You could hear American kids during lunchtime. When my mom and I would work out in the park, we could hear them, so we would realise that 'Oh, there's another side of the world. There's a line where beyond that you'd hear people only speak English, within the same country, you know?" she laughs at the bizarreness of the situation. It is rather weird to conceive of the idea — a whole enclosure in a central district dedicated to armed forces and military defense, a whole other culture transplanted into the heart of Seoul, with only barbed wire serving as its boundary. It is no wonder then, that Choi's heart-shaped barbed earrings are so innately personal and meaningful to her.
With the Seoul street fashion scene that has rocked the contemporary world, where the youth can showcase their sartorial eye and personal expressions, and the hashtag #seoulfashionweek garnering over 433 thousand posts on Instagram, Jiwon Choi again used the intersection of style and young romance as inspiration for another piece. This time, she shows me the 'Dilemma Drops' earrings taken from her 'Faded Fantasy' collection on camera. At the end of the wavy segments dangle a pair of dice; each face inscribed with either imperative, 'Kiss' or 'Don't Kiss'. "We just made a shorter version with hooks," she gestures at her creation with a smile. "As you can see, the message is very relevant these days". 
Choi's dice play on the notion of chance and taking gambles — the ultimate thrill of first dates. The burning question of whether to kiss, or not, fuels our collective anticipation in our modern dating culture, which Choi incorporates with ease. "Should I just go for it or not? I imagine my mom whispering into my ear like, 'Is this a good guy, or not so nice guy?'" she laughs animatedly. "My monologues are very involved in my jewellery, so I'm constantly trying to come up with youthful messages for the engravings."
Another quality to note about Jiwon Choi's brand, as mentioned on her site, is that her mission statement involves supporting her local community; all of the pieces are handmade by local Korean craftsmen and artisans. It was something that she had always set out to establish from the inception of her label. "At the beginning when I was making fashion accessories, I was super resourceful in using upcycled materials such as fabrics. It became gradually impossible to manufacture day-by-day, so I wanted to keep that consciousness when I started using metals. I found local artisans located in Jong-Ro." 
Officially known as Jongno-gu, the area is a well-known historical jewellery locale in Seoul, similar to the Hatton Garden diamond quarter of London. Known for wedding bands and wholesale prices, the craftsmen are also seen as economical in their recycled metal-sourcing. Initially, Choi had to sway the ageing artisans from their reluctance to work with young and budding designers, which they eventually came round to. "We would ask local brass and silver factories for small amounts of dust, which we would collect and melt into metal. So this all started out from Korean frugality, which I also saw as very environmentally friendly."         
Choi's jewellery-making process is streamlined from her studio, where the design phase takes place. Moulds are developed first, into which melted wax is poured in and carved when solid, in a process called lost-wax casting. The wax products are then taken to workshops manned by senior smiths (or as Choi refers to as 'grandpas'), who eventually transform molten brass into the final pieces. Choi jokes about the often bewildered artisans who work on her designs; accustomed to traditional wedding bands and signet-style jewellery, trivial pieces such as dice and middle fingers often elicit confusion. "Since they're quite new to these designs," Choi says, "They've told me that they wouldn't make my pieces, as they wouldn't sell!" And with a touch of disbelief, she exclaims: "Especially earrings for boys - I've been told that boys wouldn't like to wear skulls in their ears!"      
Times have clearly changed, especially in our hyper-digital age of social media, trend-based fashions, and the increasingly blurred line of self-expressions of gender in the public eye. On the topic of having her pieces worn by celebrities and well known figures, Choi comments, "I'm very passionate about sharing my work directly with people I love. If I didn't already know them at the beginning, I would just contact them constantly on Instagram — it started out as my love letter to them." Her response is uncontrived and sincere as she resumes: "I don't want it to just be about selling a product, but for my jewellery to be worn on my pictured muses. It's an image that makes me feel super fulfilled and happy. With every collection, I would just mail out my designs to people — not celebrities — just people who I felt really related to my jewellery." 
However, this hasn't prevented the magic that can sometimes transpire through the intricate algorithms and pages of Instagram; for Jiwon Choi's creations to be noticed by celebrity stylists online, and to spark a connection. "For example, Lizzo's stylist Marko contacted me and we sort of became good friends over cyberspace," Choi grins. "I would share my new collection with him and he'd pick out some designs. When he'd told me that Lizzo was going to the Grammy's and they wanted my suggestion, I was like 'woah!' But these chance encounters are by luck, so I just have to work a lot!" she nods determinedly. 
As we conclude the interview, I ask Jiwon Choi about her imminent or future plans with her label. With a current global lockdown in place, small businesses and independent retailers have been hit hard. "We have our new collection out," she confirms. "I was supposed to launch it in March, but we just have the photoshoot left — so I'm thinking about how to showcase this new collection!" It's a testament to her resilience, that Choi remains positive and hopeful in the face of it all, and she optimistically thinks out loud, "Like, should I just do it on my balcony, or model it on myself? I'm in the process of figuring it all out." Choi's upcoming collection, aptly named 'High Voltage', will reflect the liberating mechanics behind the 'post-break-up glow-up', essentially becoming your own hype-person. "It's that powerful feeling you get right after a break-up, when you want to change up your looks, spend money on colouring your hair, get a hair-cut, do something different, become a different person. But in an elegant way — it's so pop music," she beams with a knowing twinkle in her eye.