AN INSIDE VIEW BY BH
HAUS GUEST: BOBBLEHAUS X JESS YOUNG
No. 1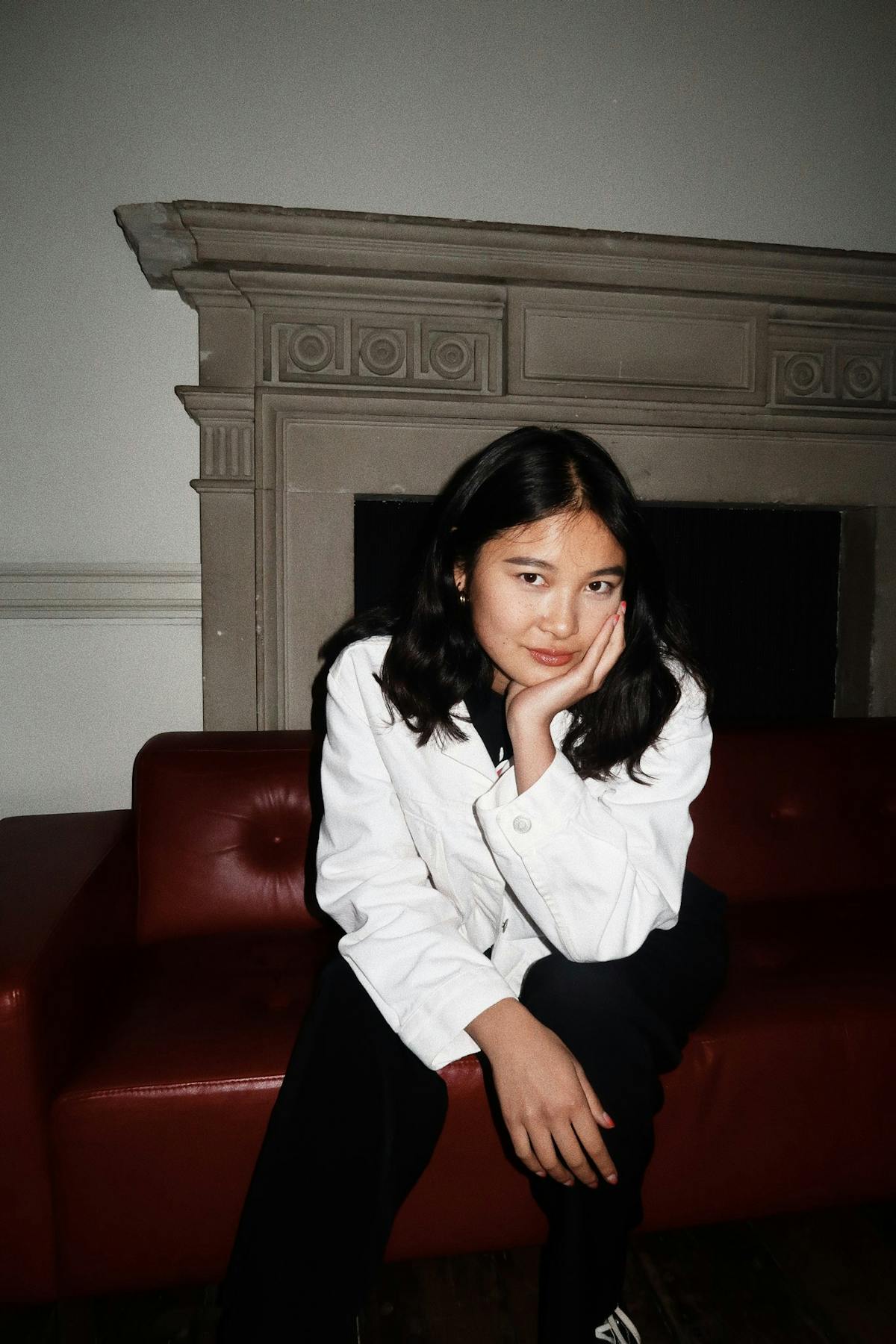 IMAGE CREDIT: BOBBLEHAUS / LIZ HEW
It's around 7pm on a crisp October evening when I meet Jess Young (@jessyoung__) in the grand courtyard of Somerset House. Summer has given away to the shortening days of Autumn, shadows lengthen as sunsets arrive earlier and earlier. Huddled around a steaming pot of tea in our winter jackets, Jess is illuminated by the warm glow of a nearby café terrace. "I'm a Scorpio!" she beams enthusiastically early on in our conversation - after I note how calm and gentle her demeanour is, she adds semi-conspiratorially, "it's in me somewhere, it just needs to be triggered you know?". Born in the North London district of Islington to Chinese-Vietnamese parents, the aspirationally cool Gen-Z'er has established her name as a creative nail artist, while also moonlighting as a successful DJ. At only 21 years of age, Jess is the founder of 'Boys in Polish' (@boysinpolish), a photo series project seeking to challenge toxic masculinity and gender stereotyping one manicure at a time. In visually documenting her male-identifying friends shortly after painting their nails, she captures a youthful portrait of her ever-growing online community. 
Since identity and representation remain at the forefront of her ongoing project, we turn towards her relationship to her own Asian heritage, particularly against the backdrop of growing up in London. "I think recently, I've grown to love and really embrace being Asian, but in school I was very 'white-washed' and just wanted to fit into Western society," she tells me as she reminisces about her childhood years. "I think that's what naturally happens when you're quite young and unaware of your own skin." London itself has witnessed a cultural boom in ethnic representation in media in the last few years, which is a progression Jess is grateful for: "I think we're now in a time where the diversity of London is really being celebrated, which makes more room for people of colour to just appreciate the skin they're in." However, this journey to self-acceptance and cultural appreciation was not always a smooth trajectory. "Looking back to when I was younger, it was a lot harder. I really wanted to dye my hair purple at one point because I just didn't like my black hair," she laughs. And it seems that today, Jess has certainly moved beyond her days of desiring to achieve physical assimilation with her white peers, instead donning her natural black hair colour which is cut into a casually chic lob.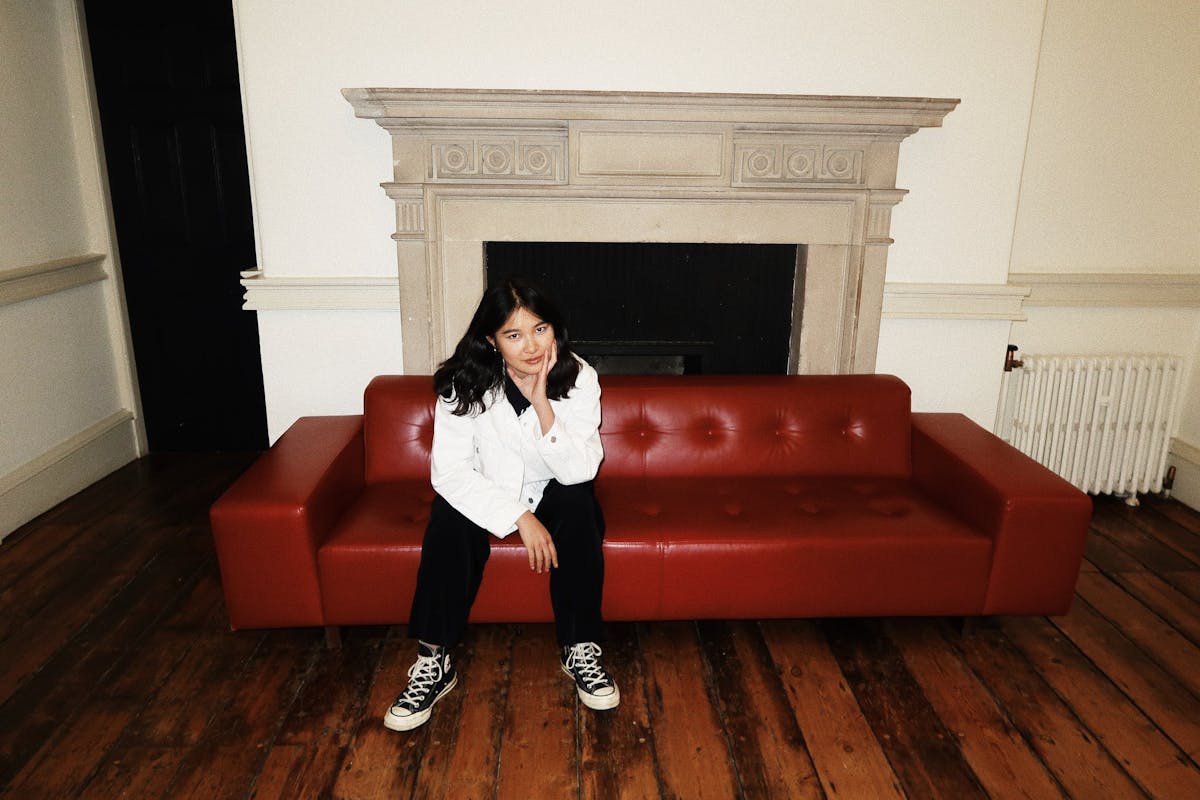 IMAGE CREDIT: BOBBLEHAUS / LIZ HEW
She takes a sip of tea, a stray lock of hair glinting amber under the terrace lighting. A recent trip to Thailand and Cambodia - her first ever journey to Asia in fact - has left her feeling relaxed, centered, and ever so closer to her ancestral roots. "I think being around that energy helps me to appreciate my culture a lot more," she speculates. "Going to Asia and just being in that familiar bubble, it was just so different than being in London. I think I was more overwhelmed by how nice they were over there. But I've never been to where my family is from, which is actually China." And as for her next trip destination in Asia? "Definitely Vietnam," she responds resolutely. "And with friends this time, not with family again!" she adds with an impish grin.
Having met Jess before, it's easy to observe that her nails are habitually finished to perfection. Today, her nails are painted with a striking powdered ombré effect, her nail tips coloured a bright shade of orangey-red, so it appears she has dipped her fingers in striking dye. It is small flourishes like this that give away Jess' creative mastery of nail art - a craft that she has honed since childhood. "Since I was young, I used to always follow my mum into her friends' nail salons and the nail supplier, so I'd be in Mare Street all the time." For those unaware, Mare Street is a historic 15th- century thoroughfare in Hackney, East London, which is also home to a celebrated antiques, flowers and food market; naturally acting as a cultural hub for its local residents. Jess' frequent visits to the area, coupled with her familiarisation with the tactile beauty industry, eventually led her to build up a nail-kit of her own to the accompaniment of YouTube tutorials. "I even did origami tutorials on my YouTube, but I'm not telling you what channel that is!" she laughs heartily. (As a disclaimer, these videos are still somewhere out there in the maze of the Internet.)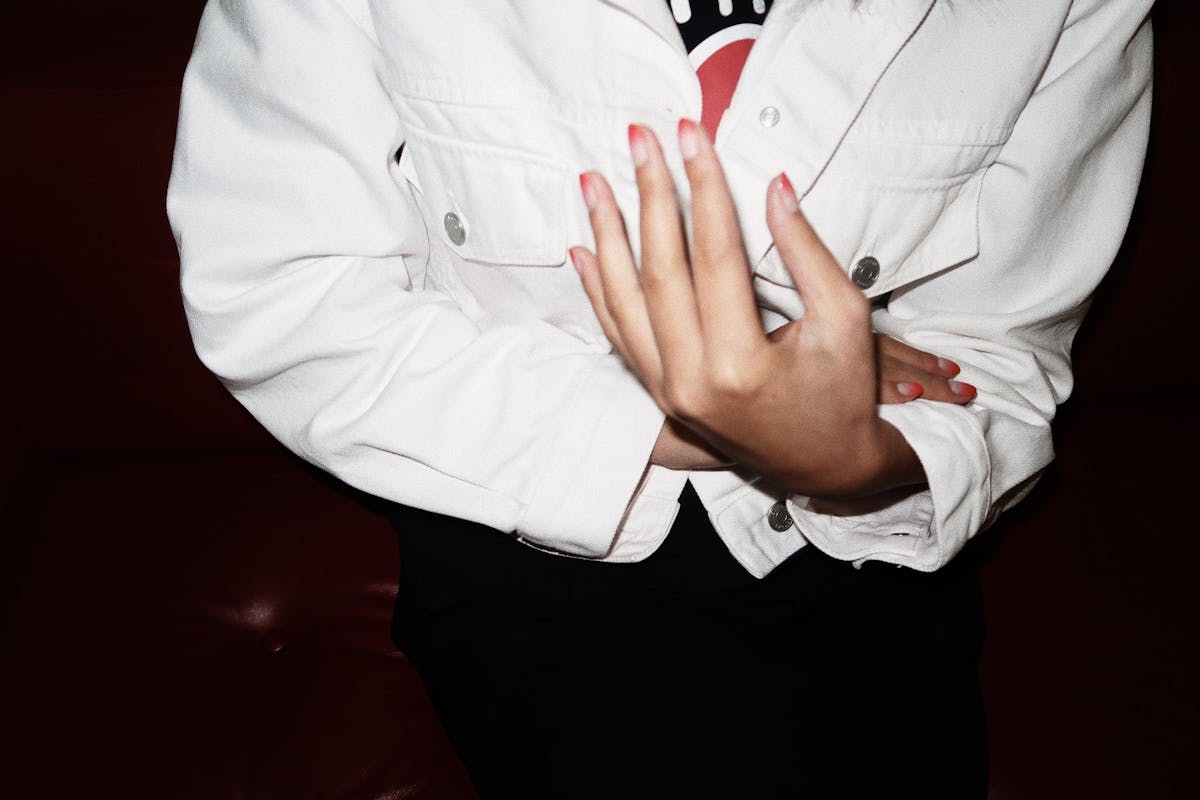 IMAGE CREDIT: BOBBLEHAUS / LIZ HEW
Attending art school enabled an avenue of self-exploration for a younger Jess to develop her own personal style, which was an all-encompassing experience within itself. "You had to do all this research in art school and I really delved into it. I've just changed so much as a person - stylistically too." Since evolving past a self-professed 'kawaii' phase - seemingly a rite of passage for most Asian kids, myself included - Jess still retains her adoration of bright colours. "In secondary school, I'd have this origami lotus which I'd attach to a kirby grip. I'd wear it in my hair and walk around with a Hello Kitty bag which I'd update every half-term!" she exclaims through a fit of giggles. Her inclination towards bright and happy colours has remained a mainstay in her current work, a process that truly accelerated upon joining the millennially-loved beauty collective, Wah Nails (@wahnails). As a beauty salon located in the central hub of Soho, located next to London's Supreme streetwear store, it was a cult-favourite for influencers, celebrities, and cool girls from Instagram alike. Jess started working there as a fledgling nail artist at the tender age of 17, up until its close earlier this year. "I definitely loved it because school was so stressful. And I saw Wah Nails not really as strictly work, but as an opportunity to just have fun. I learned to do gel nail art among other things, not just technique wise, but knowing how to deal with clients, and working with certain people. It's given me so much insight into what people are like in the fashion and creative industries - and how materialistic those worlds could be," she says pensively. "Looking back now that Wah Nails has closed and I'm no longer a part of it, having this year to freelance, be with myself, and attract clients who genuinely appreciate my vibe has made me realise that Wah was a phase, but a very important one." When I ask Jess to expand on this, she furrows her brows slightly. "As much as I loved working there, I think being around people and just being in that environment - that's where I actually learned what anxiety meant. It's almost like you don't want to admit when you're feeling anxious." Having Jess open up candidly to discuss the unglamorous side of the beauty industry is a sobering reality, no matter how much fun and vibrancy the venue oozed. She continues, "I reached a stage where I was just like 'Shit', because of my environment." However, it wasn't a completely anxiety-inducing period. Her tenure at Wah Nails also served as an opportunity to meet a fantastically diverse range of clients. "Wah definitely had an influence on my own projectBoys in Polish," she notes. "Since Wah was right next to Supreme, it was a case of a very female-dominated business next to a very male-dominated business. I'd feel the intimidation sometimes where I'd want to go into Supreme, and I knew that it would be the same in reverse. I've had situations where grown men would come in for a manicure, but I'd pick up their hands and they'd be soaking in sweat because they were so nervous!" Jess recalls. She takes another sip of tea and her voice assumes a more sombre tone. "It's just really sad, because I think, 'Why is it so difficult for guys to fit in a bit of self-care or self-love? Why do they think they can't appear vulnerable?' As girls, it's so easy for us to be vulnerable and have a shoulder to cry on if we're going through shit, but we're at a point where guys are too scared to even walk into a salon," she exhales with frustration. "There's absolutely nothing wrong with self-care, and withBoys in Polish, I really want to promote that it is an okay thing to do. It's important to look at yourself as a necessity; it's a necessity to make time for yourself. It's a necessity to open up about issues that are troubling you - and I think on a deeper level,Boys in Polishhelps me to explore relationships."
As Jess vocalises her ethos with her project, she becomes more animated, and it is clear that Boys in Polish's ethos exists far beyond the confines of a simple Instagram page; it's a way for the young nail artist to fully explore and directly challenge the climate of toxic masculinity that so many men are ensnared by, and the harmful faux-masculine stereotypes that she has borne witness to. "It started from heartbreak. I got to a point where I was experiencing the same type of issues with guys, and I'd wonder how could I help them become better at expressing themselves. Why is there so much hypermasculinity going on? It gets channelled in negative ways like violence and aggression." Acknowledging this problematic lack of spaces for male-identifying individuals to safely vent and decompress, Jess was inspired to kickstart Boys in Polish, particularly while she spent time with male friends during her art foundation degree. "Purely from my experience, I understand more why this is an important thing to do - for guys to just let it out. They get their nails done and they also see what can be done with nail art as a creative outlet. I want to encourage creative expression, and do workshops and more activities that can help guys to just find - this sounds so clichéd but - their inner zen!" she covers up her laugh with her hands, bringing her manicure to sight once more.
Jess describes her methodology as a therapeutic approach. "The whole process of getting your nails done is a very intimate situation, so guys just naturally open up because it's essentially therapy. I like that they feel good after anyways - I know some can get nervous about the whole shooting process but it comes out so naturally and spontaneously." All of the subjects on Boys in Polish are men that she has met along her journey, which includes friends of friends and some that reach out through social media. The whole project weaves together the different, diverse lives of men across the city, a patchwork portrait of London's youthful scene. Its strength lies in its diversity of its subjects, aided by the fact that so many of them are extremely stylish and unapologetically themselves. "I'm really not a casting agent, but the only 'casting' aspect that I think is important is I need to connect with the guys that I shoot, and I need to understand their vibe. It's also a lesson for myself, because I want to  learn more about them and then share that with the world." The most popular designs requested are negative space-inspired, where an outline is painted across the nail bed to resemble a tattoo. "It's a nice way to meet people, and I think slowly, we're getting there in terms of building a really solid platform," Jess muses. At this point, the tea is finished and we're contentedly reclining in our outdoor seats. Her smile is warm and hopeful as she describes the individuals that she has met through her project, now that she has taken steps to actively promote kinship-building for men. "I just love that all the boys do different things - there's going to be opportunities for all of them to meet and it's going to be amazing. They're all such beautiful people."