AN INSIDE VIEW BY BH
CANTO: A NEW HOME IN THE WEST VILLAGE
No. 189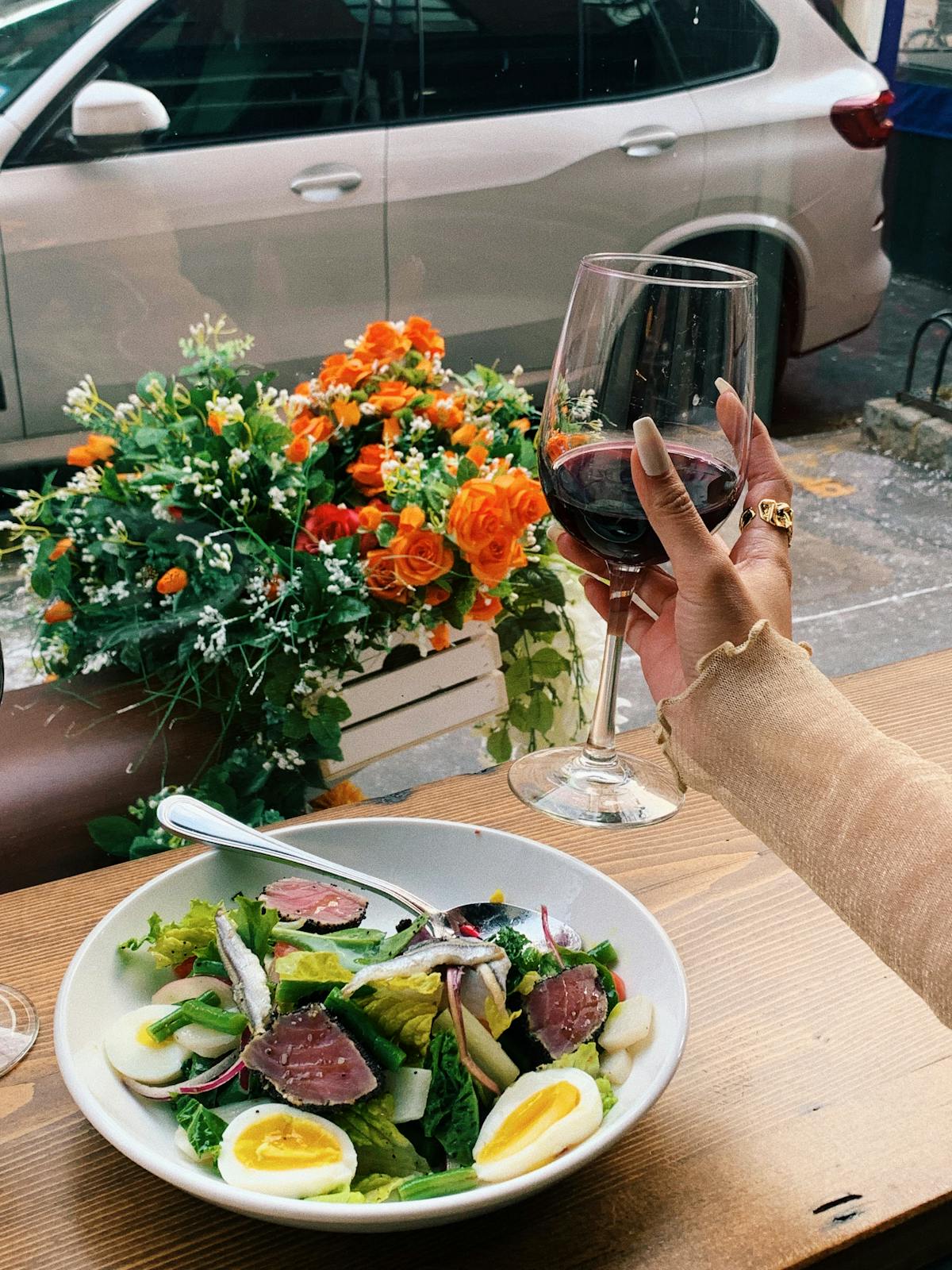 NYC-based contributors Casey Huang and Carolyn Shao interview the co-founders of Canto, a new Italian restaurant in the West Village.
It's difficult to walk by West Village's newly opened, Canto, without wanting to sneak a peek. After all, the immediate attraction of a flower-adorned Vespa at its front doors is enough to stop you in your tracks. But then again, anyone walking through Perry Street can see straight into this glass-enclosed space: the wooden dining tables and chairs, the marble stoned bar that lines one side of the restaurant. Every element presents itself in plain view, without mystery, and one look is enough to invite you into this new restaurant that lays itself so completely to all passersby.
And if that's still not enough, may the promise of food and drink lure you in.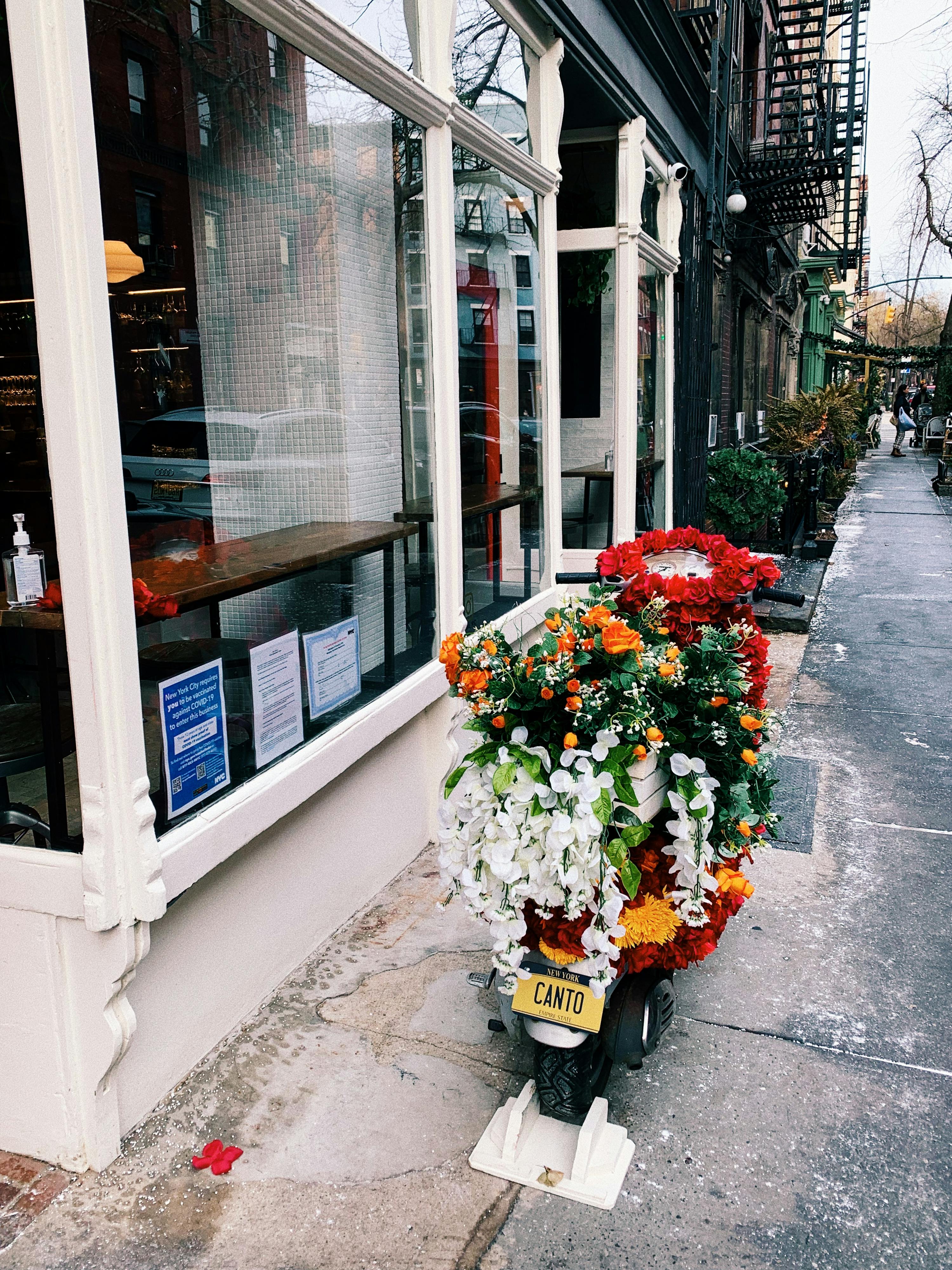 Walking into the soft hue of Canto nearly feels like walking into someone's home. The comforting contours of light wood line the ceilings, contrasted by the newness of the black marble countertop and white columns. Brightness beams through the glass as natural light fills the room. Modest yellow lights line the space above the bar. It already feels somewhat novel but familiar, modern but warm all at the same time. The eager hospitality of Canto's co-founders Allen "Al" Chan and Djamel Omari instantly put us at ease as they offered us tea and drinks, drowning out the shuffling of laptops and coats, replacing them with light chatter and the ripping open of tea bags. 
"We want it to be a space for everybody."
Al, Djamel, and co-founder Eugene are all about family: from cultivating close relationships with their staff, customers, and the greater restaurant industry, to housing it in a cozy and inviting space. "We want it to be a space for everybody–whether you're a young professional or a couple that comes in weekly." From the way Djamel warmly greets his customers just popping by to say hi to the way Al highlights the way Canto derives its energy from all its people, we begin to feel that this truly is a space for community and family to gather. "You really have to see and experience it–there's a warmth and energy to the space tied to the customers," Al relays. And what we felt–comfortable, laidback, and at ease–must translate to those coming in, whether for a three course meal or just a simple glass of wine as. Djamel adds, "I like to make people happy. It's not about the money, but the experiences and reactions of people. I just love seeing them happy after a meal."
"The kitchen is like a symphony: how they prep and move around each other to get things ready, how they rotate around each other..."
Al first met Djamel when he stumbled into a restaurant Djamel was managing a few years ago. At the time, Djamel was managing restaurant spaces that were not his own, dreaming of his own venture that could implement better systems than the ones that he was bound to. During the pandemic, when the restaurant industry came to a staggering halt as New York entered lockdown, Djamel, like many other workers in the industry, was suddenly without a job. It was during this time that Al and Djamel seriously considered the idea of opening a restaurant together as they spent their days drinking and cooking–something they had discussed together years ago in the Hamptons. To do so during the pandemic seemed impractical to everyone who heard Al and Djamel's pitch. Nonetheless, after hiccups spanning liquor licenses to securing a location, Canto opened its doors at the end of 2021. 
With a community of people in the restaurant industry who were willing to help and support them in their journey, they were unafraid to begin their new chapter. "I'm nothing without him," Djamel tells us as he points to Al. Despite not having formal training in the food industry, Al's meticulous experience in business supplements Djamel's passion for food and his self-claimed addiction to the restaurant industry. "The staff and kitchen to me [are] like organized chaos," Al explains. "The kitchen is like a symphony: how they prep and move around each other to get things ready, how they rotate around each other. But when service starts at the front of the house, it starts to move naturally." To this, Djamel responds by drawing upon the metaphor of a chain: "it's not easy to put together, but you get them to move at the same pace. The most important thing is how you teach your staff and to tell them how the system works."  To both, onboarding the right people was crucial to maintain the organization of their joint orchestra chain. As they brought along familiar faces who have stayed with them throughout their journey, there was less of a learning curve for those familiar with the structure Djamel preferred in the kitchen, from prep to service. "You need to be in business with someone you trust," Al continues, "No way would I ever run a restaurant on my own, but I would with Djamel." 
"You need to be in business with someone you trust."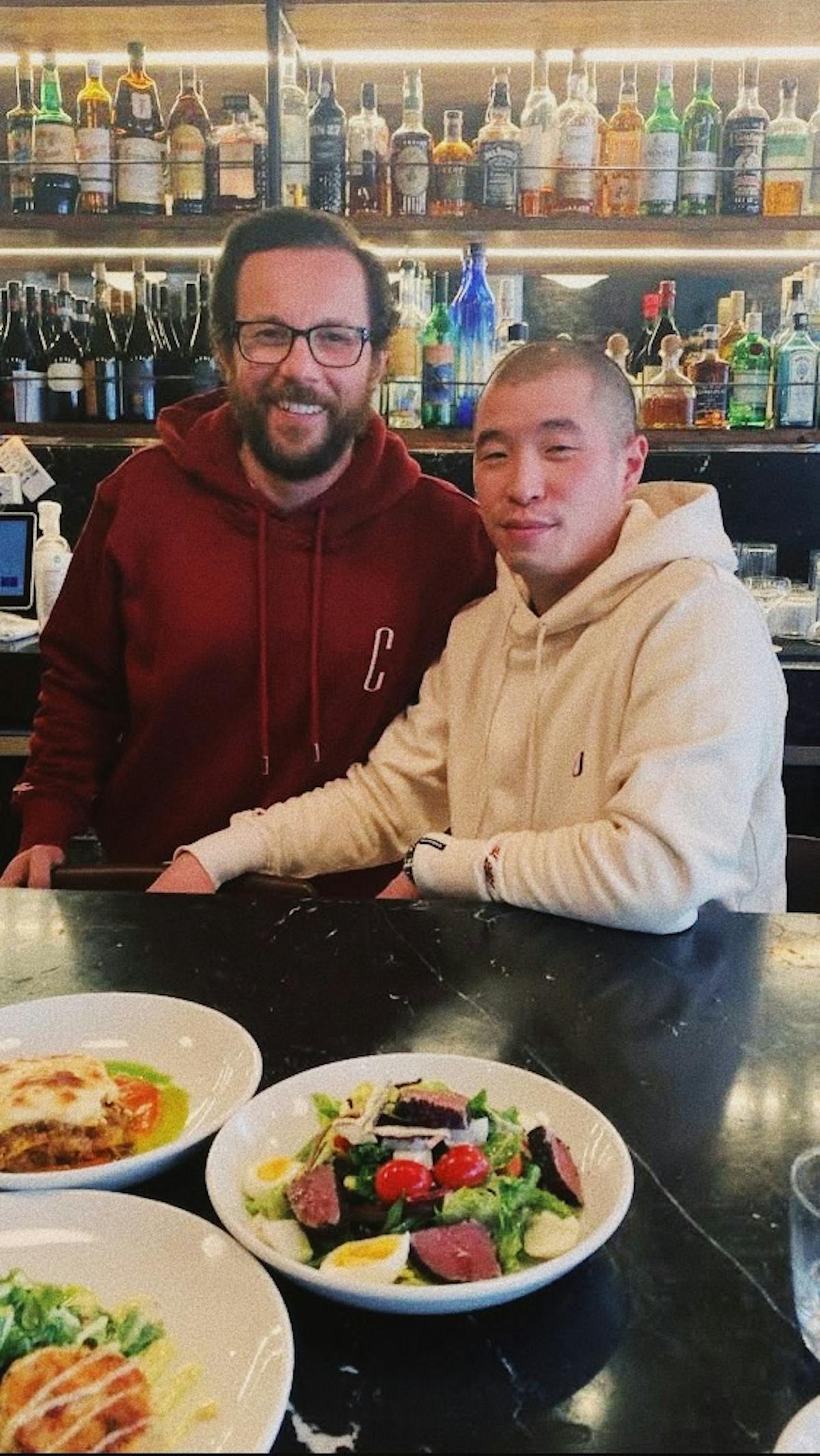 Allen "Al" Chan and Djamel Omari
Working in cosmopolitan cities along the likes of Paris, London, Singapore and Sydney since he was 19, Djamel ultimately chose to settle in New York. "New York makes immigrants feel welcome," Djamel notes. "This is where the best fusion has happened for years." New York, after all, is the home of Japanese-Jewish cuisine like pastrami sauerkraut okonomiyaki and Korean-Mexican kimchi tacos. After studying at culinary school in France and working in French cuisine, Djamel fell in love with the lightness of Italian food, and when Canto came into being, this became the basis of the menu: Italian comfort food.
In preparation for opening, Al, being the logistics man, designated six weeks prior to tastings to develop the central element of a true restaurant experience–the menu. But Djamel assured Al it would take no longer than a week, as his experience and skill left no room for worry. He brought together the dishes that were fitting for the intimate space they created: ones he called his mother to help him perfect, the chocolate soufflé he struggled with in culinary school but has since conquered, and the all-American burger (at the insistence of Al). Canto's versatile menu delivers the perfect experience each time, designed to be delicious for vegetarians and meat lovers alike, or even those just looking for a unique cocktail.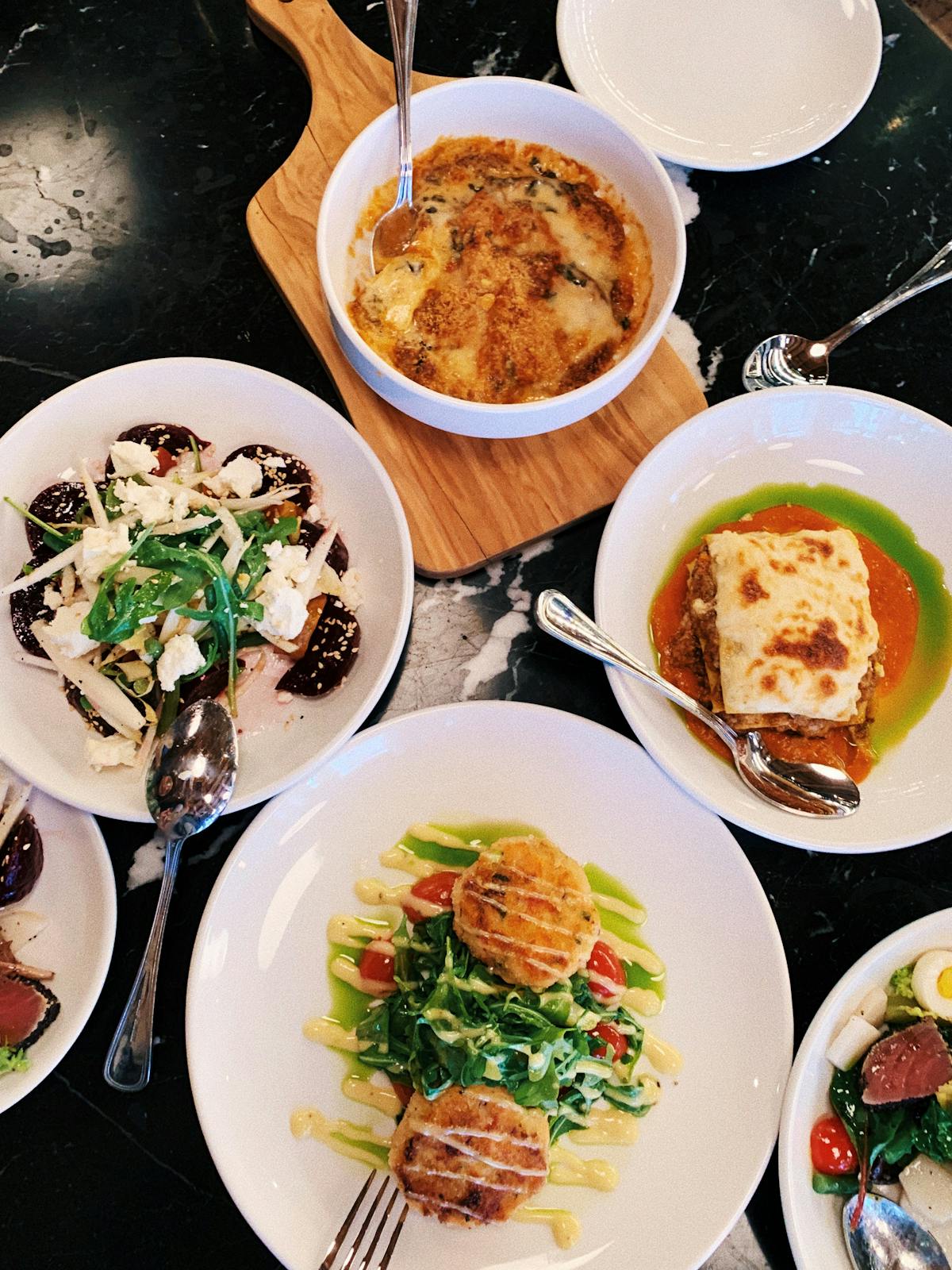 We were lucky enough to share a meal with Djamel and Al just as the staff started rolling in for dinner prep. Each person who walked in was welcomed with hugs as Djamel gave us spirited introductions, a smile across his face as he explained how instrumental each member is to the team. Although work-mode turned on in the restaurant, the mood remained light; Djamel and Al circulated through the restaurant–a few bites with us, a check-in with the cooks, a joke shared with the bartender. The pulpo (octopus) carpaccio slid onto the table, thin white slices framed by rings of purple and brown like an organic pattern on the plate, garnished with an arugula salad, lemon juice, and sauce. Paired with the freshness of the red and golden beet salad, the flavors lay subtle groundwork for the lasagna, a classic dish that tastes like the warmth of a home. Each bite melted in our mouths and left us just full enough to access the second stomach–the dessert organ. Every dessert dish of your dreams is made perfectly at Canto: there's the chocolate soufflé that streams out melted chocolate as your spoon dives in, the healthy yet gratifying ricotta cheesecake, and the delicious Italian classic tartufo. The dishes have adapted to their positions in an Italian restaurant, with influence from their French chef, and are now feeding cultured New Yorkers in the heart of the West Village.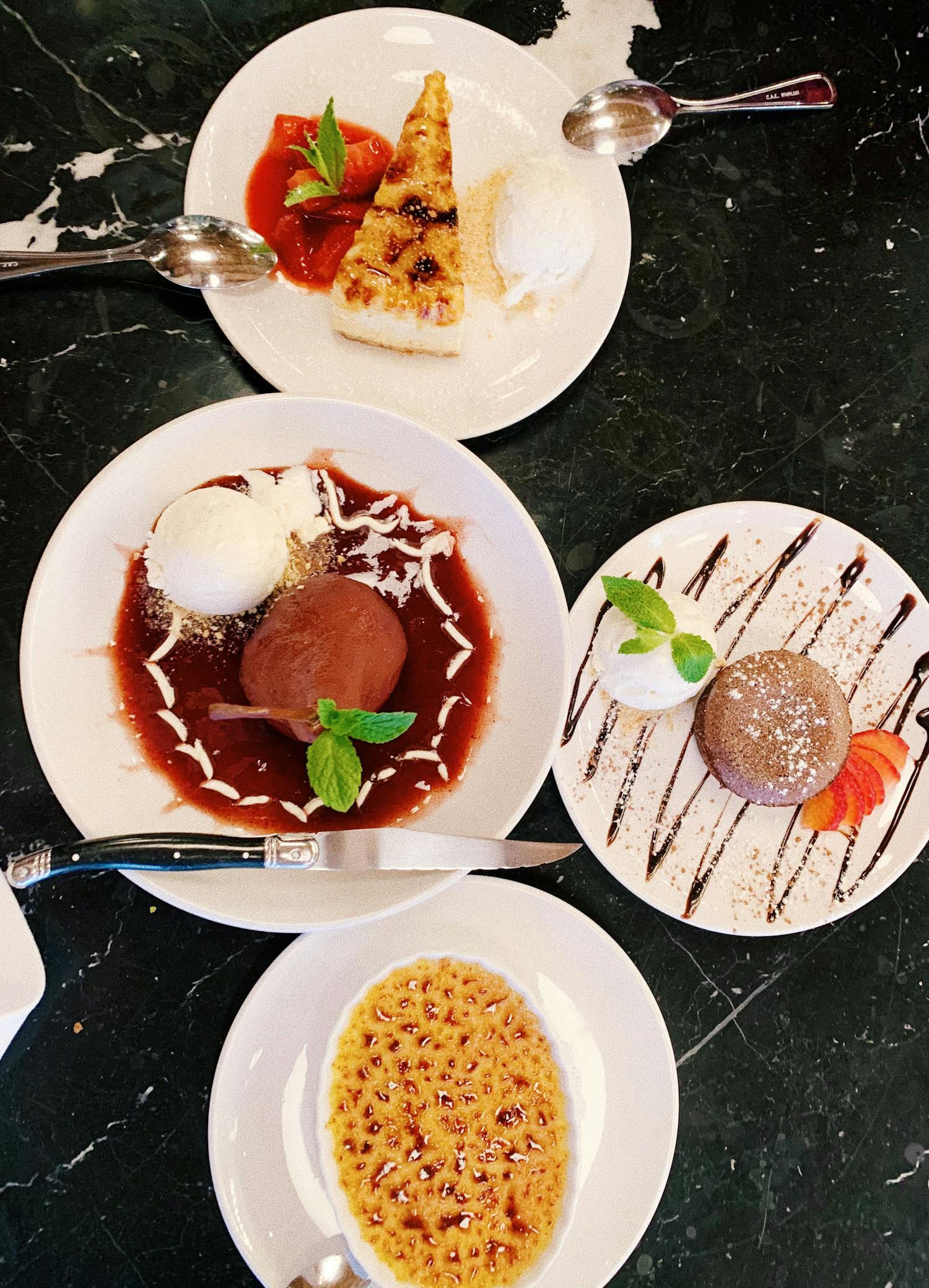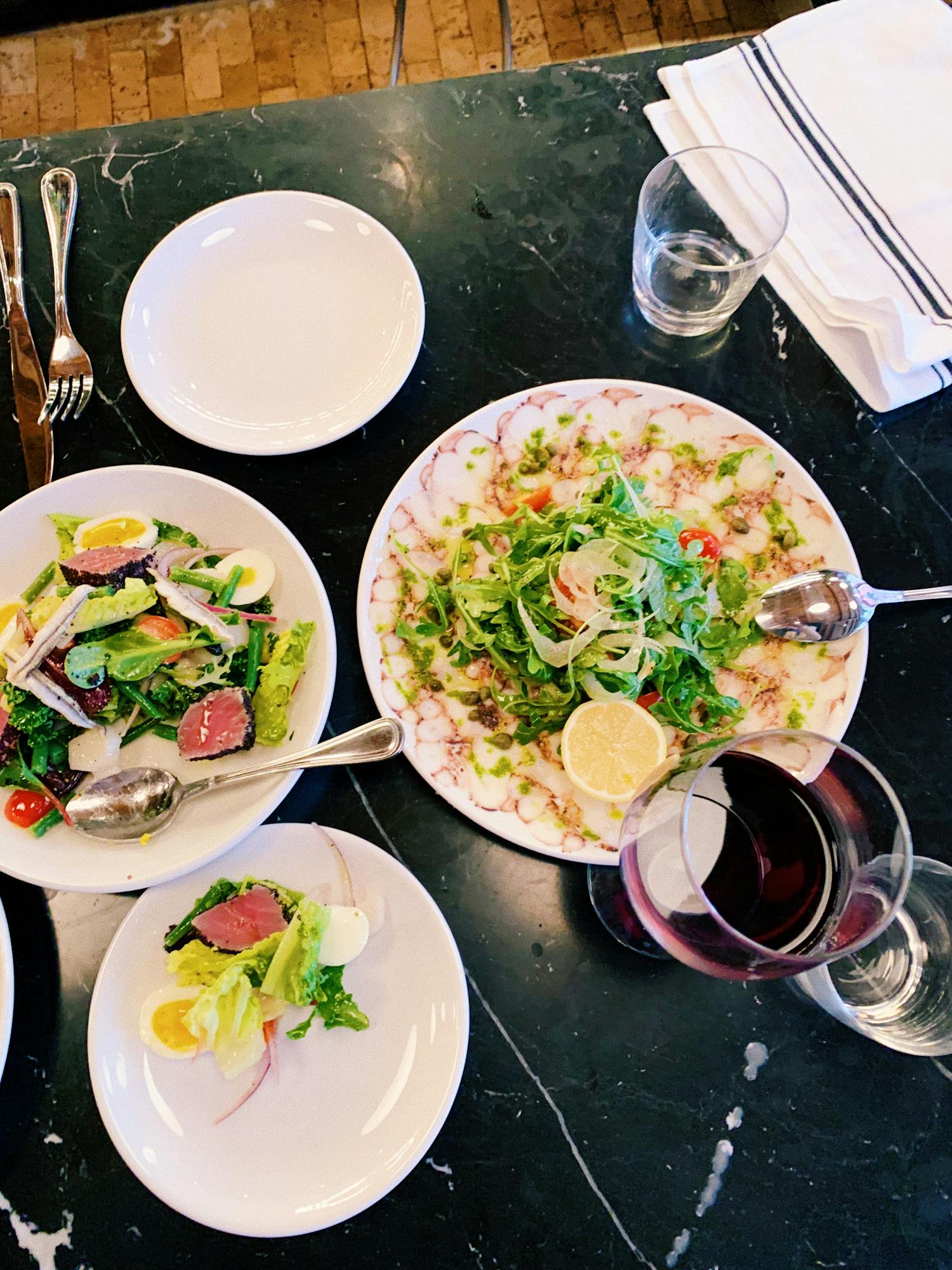 "... all can find nourishment here."
New York City, evermore the melting pot of the world, welcomes immigrants like Djamel and multi-cultured Americans like Al and Eugene who have now opened a little home in the West Village for the people of the city to experience the perfect meal. The careful considerations that tie together the modern flair of Djamel's menu and the timeless beauty of the pre-war building are in the details–the flickering candles lit at every table as the sun goes down, the perfectly-kept exposed brick,  the flower-covered Vespa at the door. It is that tender, wild love for New York, and New Yorkers, that drives their desire to create a space that welcomes those in need of comfort, celebration, solitude, or joy – all can find nourishment here. 
In 2022, Canto also partnered with BOBBLEHAUS in the design and production of their restaurant merchandise.
Eugene, who is in charge of the overall branding and design marketing of Canto, wanted to create merchandise for the restaurant that didn't scream the pedestrian branding of typical merch, which then led them to Bobblehaus. "Bobblehaus had the exact cuts and fabrics we were thinking of," Eugene says of the collaboration. "We wanted it to feel and look expensive and [for] people to realize it's from a restaurant afterwards." Using West village street style as inspiration for the design, they wanted the merch to have classic styles but also appeal to younger crowds dipping into streetwear. Every color chosen for the collection ties back to the Canto–black for the black marble countertop, red for the exposed brick and wine selection, green for olives, and gold for olive oil. A simple and clean look is achieved through solid colored hoodies with the 'C' logo stitched on the left hand side, maintaining the sophisticated and classic look that Canto sought.
Canto is located in the West Village at 117 Perry St, New York, NY 10014. Reserve a table here!