AN INSIDE VIEW BY BH
THE ROM-COM, REVISITED: SHE'S ALL THAT, HE'S ALL THAT
No. 178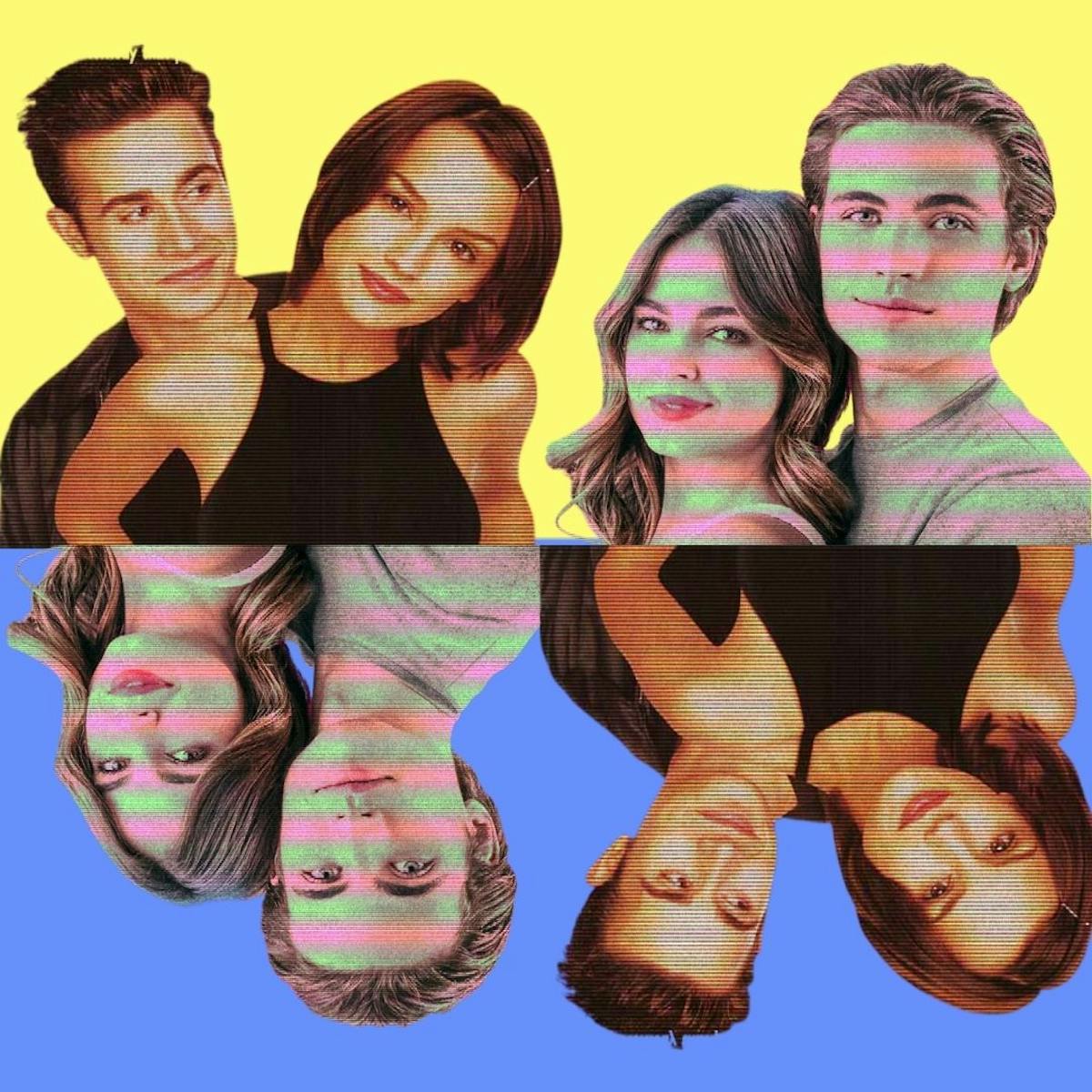 Growing up, I was proud to be raised on a steady diet of romantic comedies. After all, these heroes have thanklessly carried girls everywhere through brutal work days and bad breakups alike, and taught beginners like me the very basics of life and love. But now that everything one consumes is considered representative of their personal politics, it becomes increasingly difficult to defend its problematic tropes and ways of thinking.
In the 1999 romcom She's All That, golden boy Zachary Siler (Freddie Prinze Jr.) is given the seemingly impossible task of transforming art geek Laney Boggs (Rachael Leigh Cook) into the next prom queen. In his first attempt to woo her, he follows her to an open mic night and improvises a monologue that involves keeping a hacky sack in the air for two minutes, "never letting it drop" as an allusion to the pressures he faces as a privileged white male. I remember watching this for the first time at 15 years old; I had loved the movie as a whole yet instinctively cringed at the pretentiousness of this scene, and how it all unfolded because of his sheer persistence to win some pointless bet. It was this core messaging—among many other problematic tropes woven in its 97-minute run time—that rendered the classic in dire need of a 21st-century remake.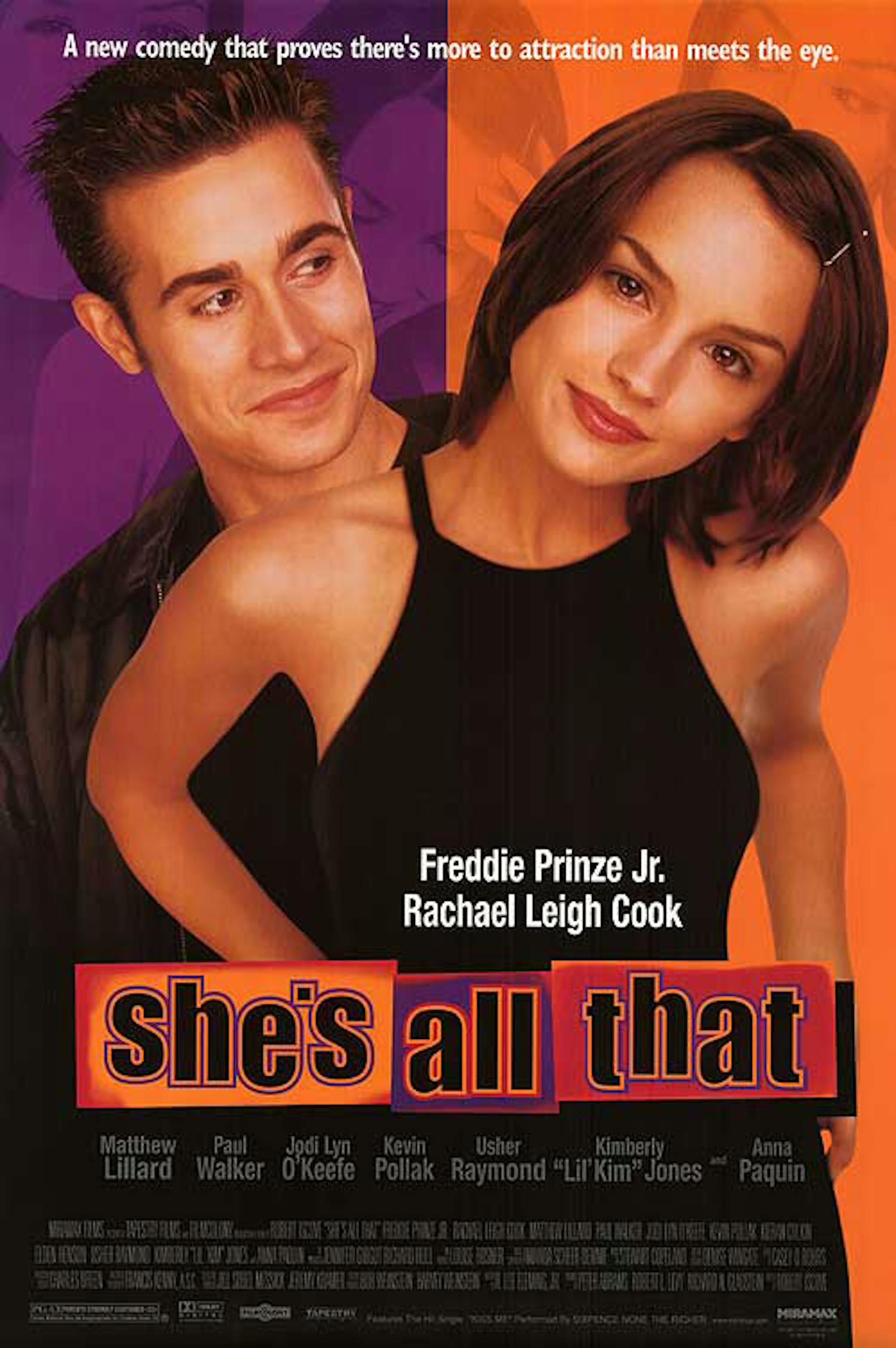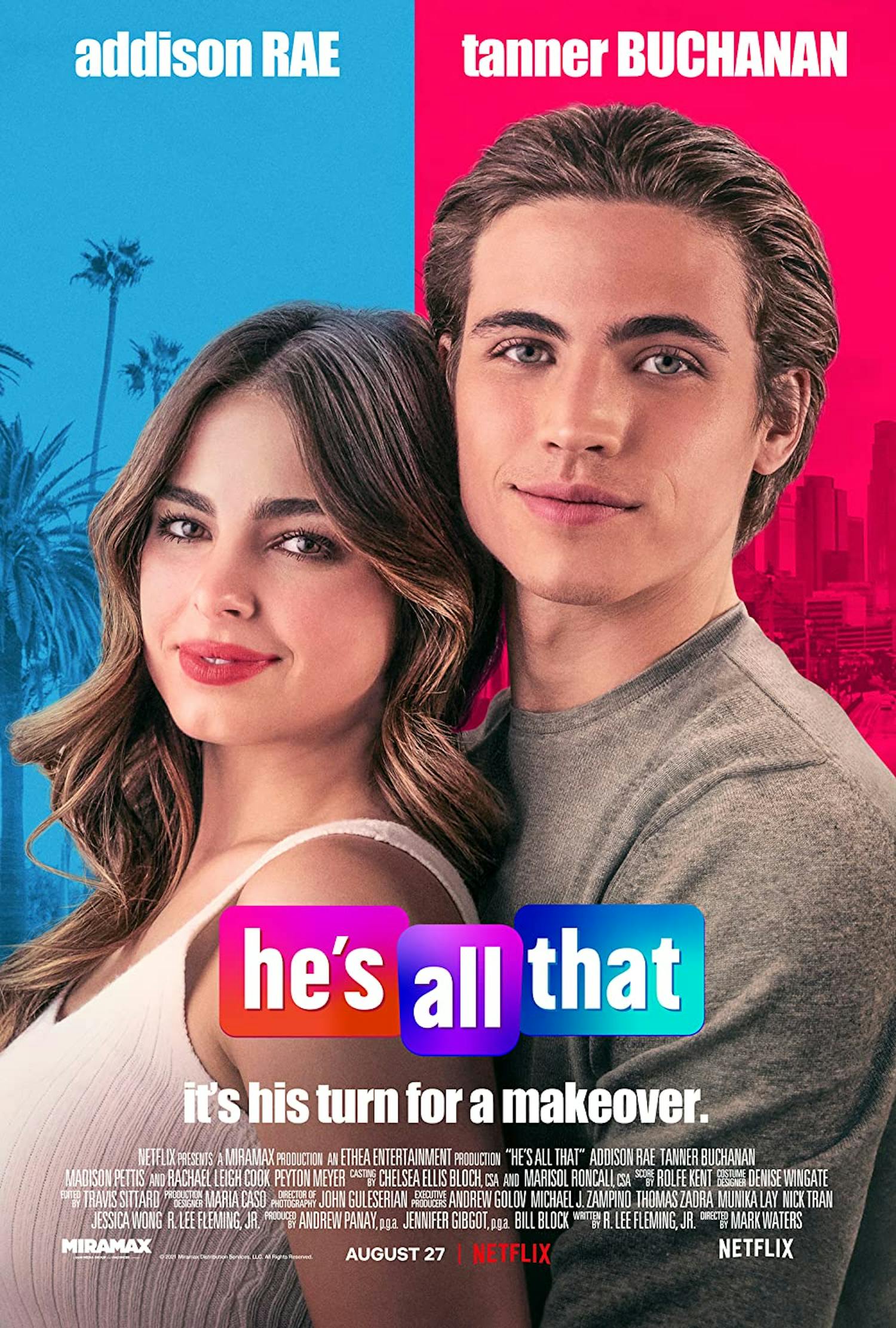 Last September 2020, Miramax announced that a gender-swapped reboot predictably titled He's All That was in the works, as part of a greater strategy to reimagine canonical  content that might cater to a socially aware, tech-savvy generation. In this iteration, TikTok star Addison Rae takes the helm as Padgett Sawyer, an influencer determined to revive her career post-publicly broadcasted disaster by turning school misanthrope Cameron Kweller (Tanner Buchanan) into the next campus heartthrob. 
Thankfully, this is done without the casual misogyny, body shaming, and sexual harassment that had landed the original in hot water. The stakes are more understandable as well, since Padgett takes on the challenge to fund her college education and support her single mother (played by—surprise!—Cook herself.) Most importantly, she seems less concerned with revamping Cam's appearance; instead, she shifts her focus to helping him come out of his shell and show the world the side of him he chooses to hide behind the camera lens, inside his darkroom. Cue the awws.
"Thankfully, this is done without the casual misogyny, body shaming, and sexual harassment that had landed the original in hot water."
Sadly, it goes without saying that despite its good intentions, the remake falls flat. The lack of chemistry between the leads is almost physically painful; the lifeless dialogue sounds like it was written by old people who put noses in their emoticons, and the preachy manner in which it tackles how modern technology amplifies the effects of peer pressure sounds exactly like every school seminar on cyberbullying. I mean, imagine winning prom queen and choosing instead to deliver a speech in front of the entire student body about how social media is fake? Does that even happen in real life? 
Regardless of these glaring flaws, I honestly believe it could have made a lasting impact—one that might have bested even the original—if it had done away with the movie makeover montage altogether.
This is a controversial take, I know.
I have spoken extensively about how this format is  literally the best scene in cinematic history and kept Kiss Me by Sixpence None the Richer on loop since I finished this double feature. But perhaps it was just the song choice paired with Zach's genuine reaction upon seeing the "new, not improved, but different Laney" that sent my soul to another astral plane. By itself, the idea that "conventionally unattractive people" (or, in this case, those who wear glasses and overalls) need a complete makeover to be deemed worthy of love and attention is downright damaging, especially when the film is geared towards young girls.
Further, the idea that love can fundamentally change a person promotes the illusion that systemic hierarchies can so easily be altered by "the most powerful force in the world." "They bestow the notion that with the help of the right people, anyone can transcend social limitations," 18th-century literature professor Leila Neti tells Salon. But these transformations expect us to conform, rather than challenge, these outdated ideals and even encourage teenage girls to strive towards the kind of beauty dictated by the male gaze.
"Sounds like a stretch, I know—like, chill dude, this is literally a chick flick."
Sounds like a stretch, I know—like, chill dude, this is literally a chick flick. But looking back, I have been personally victimized by this particular cliche. She's All That may have been an instant favorite for me but I'd be lying if I said it left my self-esteem intact. As someone who was alarmingly concerned with how the likes of me were perceived and portrayed on mainstream media, I had ultimately felt ugly and worthless. I was discouraged by the paradox that no one would love me until I was beautiful, yet I would not become beautiful until someone loved me enough to help me reinvent. God, all I wanted was to be whisked away to a party in a beautiful and body-hugging red slip dress! Was that too much to ask for?!
Reinforcing this belief when the current viewership has made active efforts to unlearn it defeats the purpose of a more progressive version of the film. It only chips away at the standards we have worked so hard to set for ourselves as creatives and consumers. If you don't believe me, maybe you'll take it from Laney Boggs herself, who said in an interview with Refinery29 that "they're going to need to remake [the movie] in another 20 years from now, when people realize that no one should be making-over anybody." Drastic changes in appearance shouldn't be viewed as anything but a decision that one arrives at independently and with their best interests in mind—not to win anyone's affection or approval, but to simply feel better and more beautiful in their own skin.
Verdict: 
She's All That — Guilty pleasure; He's All That — Guilty… (didn't bring me any pleasure)