AN INSIDE VIEW BY BH
In Pixar's "Turning Red," *Some* of Us Come of Age
No. 190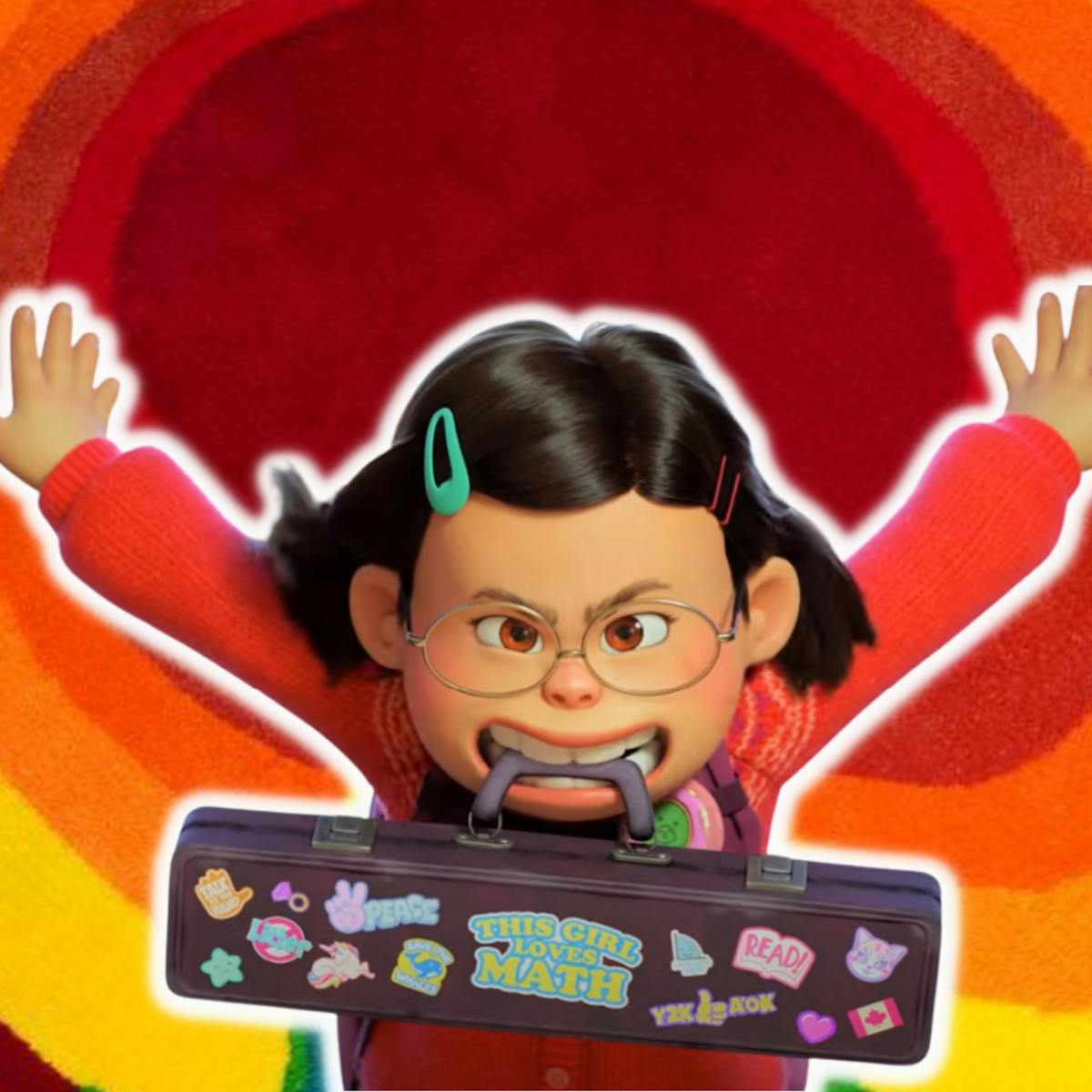 We thought about crafting an open letter to Disney as a shadowy, singular decision-maker ruminating on its successes and limitations. But we know this movie, like all products, was only the end outcome of a series of choices and compromises. We know it exists at all because Domee Shi and other creatives persevered. For that, we are grateful.
Turning Red has apparently garnered Pixar's biggest divide between critics and audiences, ever. This we interpret to mean: some of us have come of age. Others, unsurprisingly, have not.
That's not to say congruence confers quality. But when we poke around the dissenters and objections, we get a little suspicious about what exactly has upset them so much.
"For far too many cultural gatekeepers," hypothesizes Mary McNamara, culture columnist and critic for The Los Angeles Times, "the 'universal audience' is still defined as white, male and, apparently, stupidly uninterested in stories about anyone who is not."
And so for CinemaBlend managing director Sean O'Connell and his ideological peers who found Turning Red "limiting," we grieve - not out of sympathy, but to lament that they have amassed so much cultural capital only to reveal themselves so lacking in imagination.
Evangelicals like Mike Signorelli have further fixated on the Lin family's practice of ancestral veneration as demonic; rather than appreciated a compatible, more compelling narrative of a girl desperately trying to honor her parents. As another example, the mother's redemptive arc is complete when she apologizes. She asks for forgiveness in a way that is excruciating and moving all at once. If you were thoughtful enough to find spiritual kinship, you would. Anyone can feel centered in a story like this; anyone can feel known in this ultimately human experience.  
Rather than rail against the waning credibility of these gatekeepers, we're more interested in celebrating the empathy we cultivate when we interact with movies and books that affirm us, in ways literal and not. 
Our very own Wen Hsiao, the Amsterdam-based diasporic Taiwanese extraordinaire, found herself in the adolescent longings of a Sacramento small-town girl at a Catholic private school (Lady Bird). In her memoir, Tastes Like War, in mapping her Korean mother's schizophrenia, Grace M. Cho invokes Audre Lorde's "A Litany for Survival." And, reflecting upon her own childhood as a sensitive reader, Michelle Kuo (Reading with Patrick) writes: "The lack of stories about our experience forced us to be more interior, searching, and generous. We imagined ourselves into the worlds of others, finding our hatreds and loves in all races and in all time periods. We forged our own canon. In the absence of Asian American lit, I found parts of myself in Black literature. My main thought—being a kid alone with a book—wasn't 'I don't belong here, I'm not Black.' Rather, I thought, 'I am moved by what this person is going through, I stand by this person.'"
Those of us historically at the fringes of cultural production have developed long-range vision - expansively reaching so that we might participate or feel included in some way. And year after year, generation after generation, we step into the concentric circles of representation: first an indie, community-funded production. Then a festival headliner. Then a Pixar movie. We celebrate each stride. And if we're thoughtful enough, we begin questioning this strange, exclusive topography altogether. We wonder who is still left behind us. 
For the Chicago Tribune, Chinese American Christina Ma writes: "A story lives in the specifics. No one wants to hear a tale about a generic person of indeterminate history, age or gender living in an undisclosed location with underdeveloped passions, desires and vices. We want to know all the idiosyncratic particulars." 
But anyone who is principally a consumer before they are a critic knows that while "a story lives in the specifics," we are selfish little creatures. We care about the stories we can crawl into and try on for size. We enjoy these distortions, these carnival mirrors where our stretched-out selves both delight and horrify, but still feel a part of us.
This self-centeredness, in its best use case, can balloon into empathy. In wanting to see myself in all things, in another, I bind my longings with theirs. I find ways to relate, to connect. Is this sufficient for deep-rooted human relationships? For meaningful coalition-building? I don't know. But I think it's a compelling start. 
There are many people with marginalized identities and experiences who deserve to see themselves fully and literally affirmed in cultural productions, who should not rely on imagination and creativity alone to feel that they belong and that their stories are worth telling. These include displaced refugees (Encanto) and the LGBTQ community (Out). I wonder if the muddled critiques and clichés about the validity of "representation politics" have obscured their basic premise: bearing witness is an act of love. Seeing others in their context is an act of love. Knowing their stories is an act of love. The absence of these points to an absence of love, to a devastating frugality. 
I wonder, for O'Connell and others who scorned the "unrelatability" of Turning Red - did they fully see what they were rejecting?
This self-centeredness, in its best use case, can balloon into empathy. In wanting to see myself in all things, in another, I bind my longings with theirs. I find ways to relate, to connect. Is this sufficient for deep-rooted human relationships? For meaningful coalition-building? I don't know. But I think it's a compelling start. 
When you are a small-minded person, you look for villains and heroes. You simplify and flatten: the mother is overbearing, she is a monster, she is an unresolved matrilineal curse. But when you are creative, you become gentler: the mother was once a daughter, the mother is mothering for the first time, the mother is ultimately forgiven. In the end, there are no villains. There are no heroes. There are no sidekicks either, only friends we sometimes disappoint, that don't get enough credit for the times they've held us together. 
Turning Red, like its sibling Encanto, masterfully demonstrates that even the innocent, the beloved, the childlike are complicit and affected by violences larger than them. They also capture the joy of each family's resistance, of the ways they sometimes hurt but almost always heal each other. They tell real stories for people willing to receive them. 
As José María Luna put it best for Polygon, movies like this blossomed forth "not because of cynical corporate decisions, but because the artists behind the movie cared." 
Those are the artists we're rooting for. They are why this matters so much.