AN INSIDE VIEW BY BH
ARMY FIELD NOTES VOL. 4: LV, P to D, and Baby J
No. 180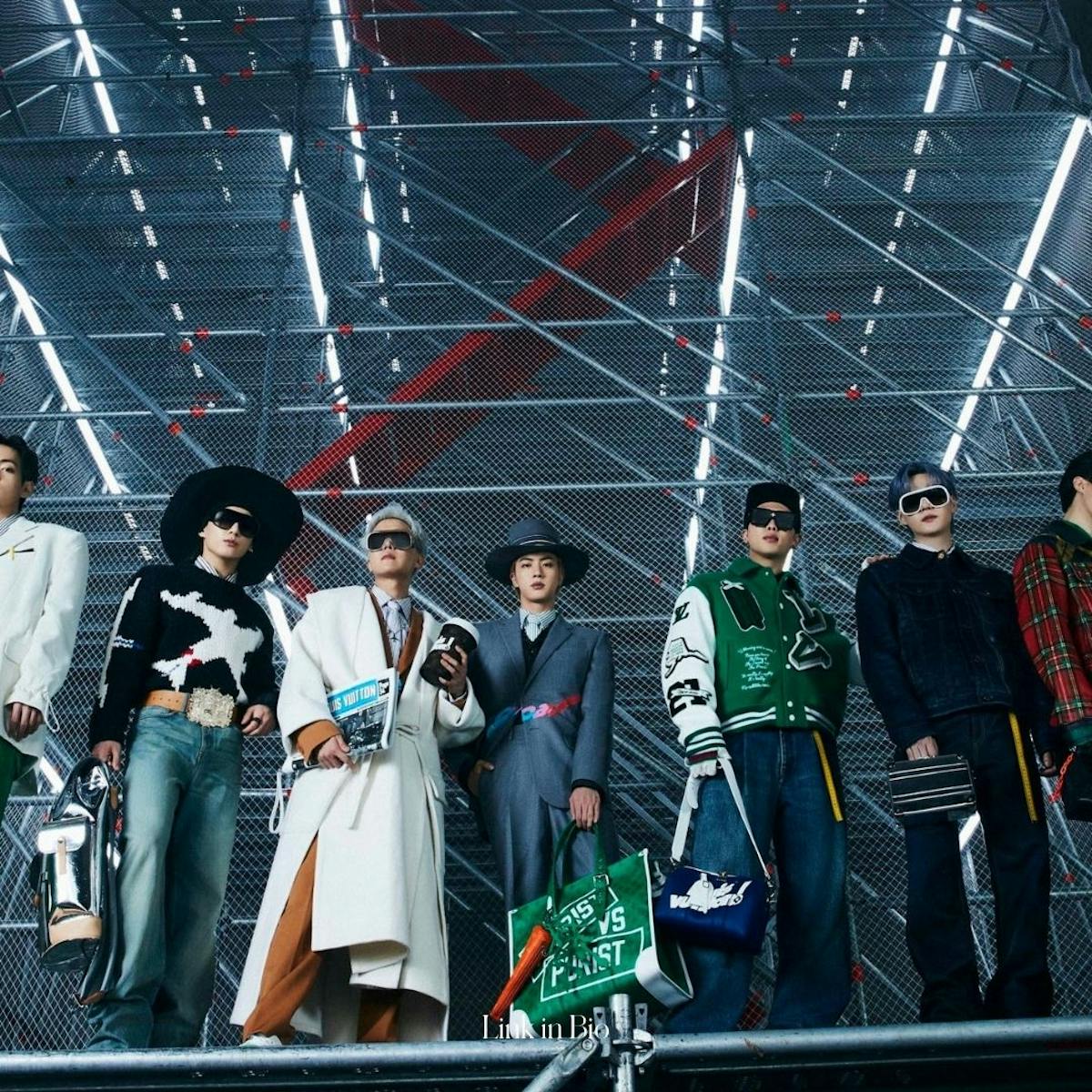 Feature Image: LOUIS VUITTON
"If BTS were there, I for one, might consider just…not leaving."
I used to follow Fashion Week shows religiously. I spent the entirety of high school glued to the Vogue app I'd installed on my iPod touch, screenshotting aggressively and keeping track of new designers who caught my eye. In college and beyond, I started finding my fashion inspiration elsewhere - in early 2000s movies, in Devon Aoki and Carrie Bradshaw, in photos of celebrities at the airport in the 90s. For all intents and purposes, I forgot about my obsession with big designers and I moved on.
LEAVE IT TO BTS TO BRING ME BACK!
On July 7 (7/7! for the uninitiated, 7 is something of BTS's lucky number), Louis Vuitton released their 2021 Men's Fall-Winter Fashion Show on Instagram, featuring their newest ambassadors, the Bangtan Boys. 
Shot in Seoul and featuring designs by Virgil Abloh, the show began with voiceover narration. In Korean, a seasoned pilot with 7 (there's that number again!) years of experience finds himself in an unfamiliar place. Said unfamiliar place is a utilitarian warehouse of sorts, full of metal pipes and white fluorescent light; the perfect backdrop for the rich textures and bold structural details of Abloh's collection. The pilot notes that should he leave this place, he might never be able to find it again (if BTS were there, I for one, might consider just…not leaving).
The actual show opens with Jimin walking down a hallway bathed in red light. Gold wraparound sunglasses with rose-colored lenses bring out the sharp planes of his face - upon my first viewing, I audibly gasped at the sight of him, one critically important question ringing through my mind – where is Jimin's modeling contract?
Jimin turns to see RM through a window, the latter dressed in an oversized black coat with bold, airplane-shaped closures down the front. He looks about 30 feet tall. Suga sports blue-gray locks, a dark suit, and a green leather satchel; its diagonal strap feels prom royalty-reminiscent, the words, "the same place at the same time," snaking down it. 
J-Hope wears a stunningly tailored printed suit, as he traipses in and out of spotlights and shadows. Dressed in red and black with a leather LV logo-printed coffee mug in hand, V looks like a stern businessman who I have a crush on but also am too intimidated to ever talk to. The exaggerated hemline of Jungkook's long, dark coat trails dramatically to the ground, creating a unique, almost cartoonish silhouette. 
Between members, we see glimpses of other models in other looks, pops of rich emerald green and vivid crimson weaving the collection together. We move from one member to the next, as they see each other, pause to make gloriously intense eye contact,  and walk away to find the next member. 
We end with Jin, the bold shoulder pads of his red plaid coat emphasizing and highlighting his famously broad frame. As he moves, he eyes a small blimp floating above him, one word emblazoned on it in bright red: hope. 
We see one more glimpse of the members in new looks; the lights dim and the credits roll.
The Louis Vuitton show preceded the release of "Permission to Dance," BTS's third ever English language single. Believed by fans to be an anagram of "stories on pandemic," the song features themes of joy, positivity, and making the most of any situation. 
Set in the desert, the 'Permission to Dance' music video finds the members dressed in fringe, floral embroidery, and other western-inspired details. J Hope, for example, wears black suede chaps, a sartorial choice that prompted a week of oddly specific eBay searches on my end.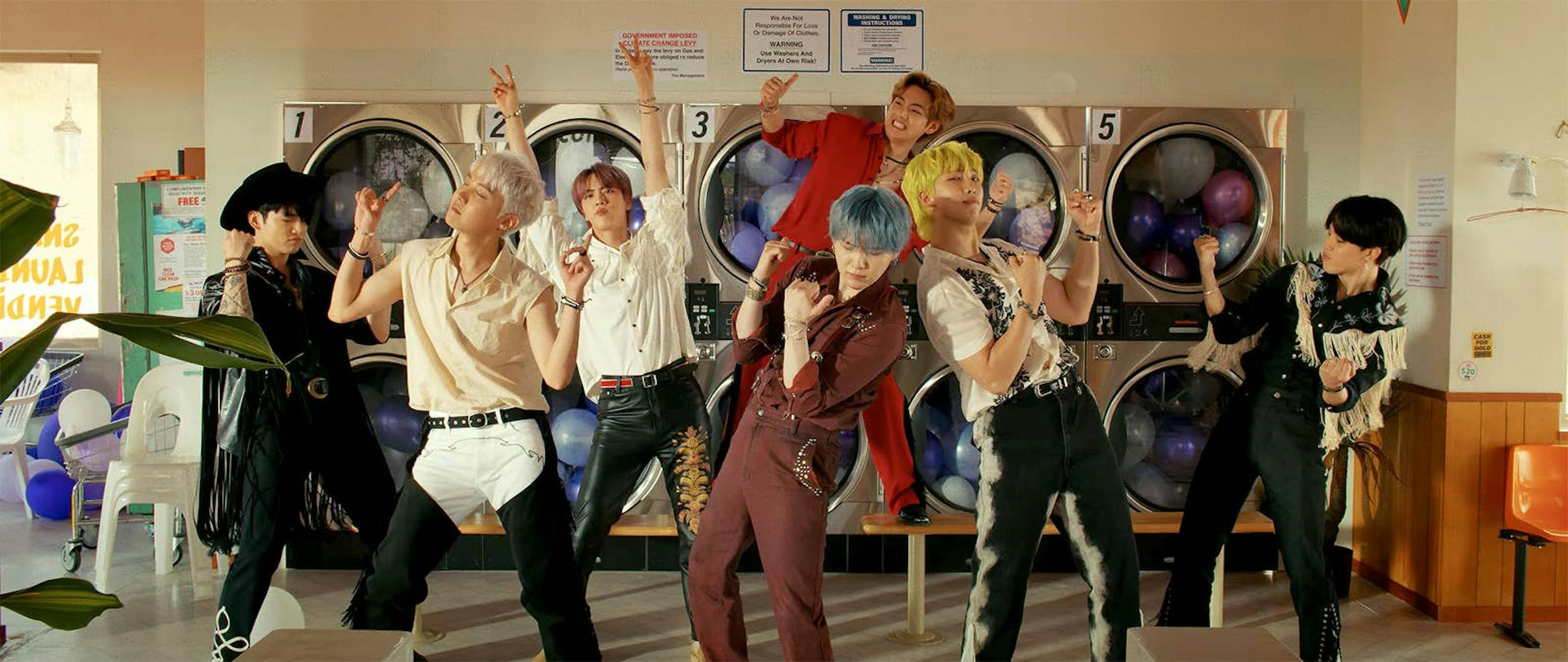 Between the members dancing, we see a variety of people in a variety of settings - in an office, a restaurant, on a playground etc. They dance, celebrate, and eventually take off their masks, purple balloons floating up and away in the background. 
Many fans see P to D as a hint that BTS is planning their next world tour, the last having been postponed due to the pandemic. The hook lyric, "the wait is over," combined with J-Hope dancing in front of signs pointing to different cities makes this interpretation feel fairly plausible. As someone who purchased an ARMY membership for early access to ticket sales, only for my Internet to fail me, leaving me with no other choice but to spend an exorbitant amount on two soundcheck tickets, bought through a somewhat risky-feeling Twitter exchange and despite having *no one* to give my other ticket to - I certainly hope it's true! 
The 'Permission to Dance' TV debut took place on Jimmy Fallon. Along with the wholesome, purple balloon-filled P to D and impeccably-lit 'Butter" performances were interviews, within which Fallon asked the Bangtan boys if certain rumors were at all rooted in truth. When the group was initially formed, is it true that all seven members shared one room? True. Is it true that V initially came to the Big Hit auditions to support his friend, nothing more? True.
There is one rumor in particular that I can't seem to get out of my head: is it true that Jimin's stage name was almost 'Baby J'?
The rumor is true; though Jimin ultimately decided not to adopt a stage name, I can't stop thinking about the parallel universe in which Jimin is called Baby J. "I'm a Baby J bias," has such a different ring to it. Is that what he would be called in the fan chant, or would they use his real name as they do with V? Since Jimin isn't using it, should I start calling myself Baby J??
All of this said, I feel 100% confident that I'd love Baby J as fiercely as I love Jimin. As this summer starts to draw to a close, I'm grateful for the wealth of content BTS provided the fans; for the amount of fun I've had with every drop. 'Butter' felt like summer (and reminded me how passionately I care about being HOT) - who knows what this upcoming fall will bring? I can't wait to find out.