AN INSIDE VIEW BY BH
No. 77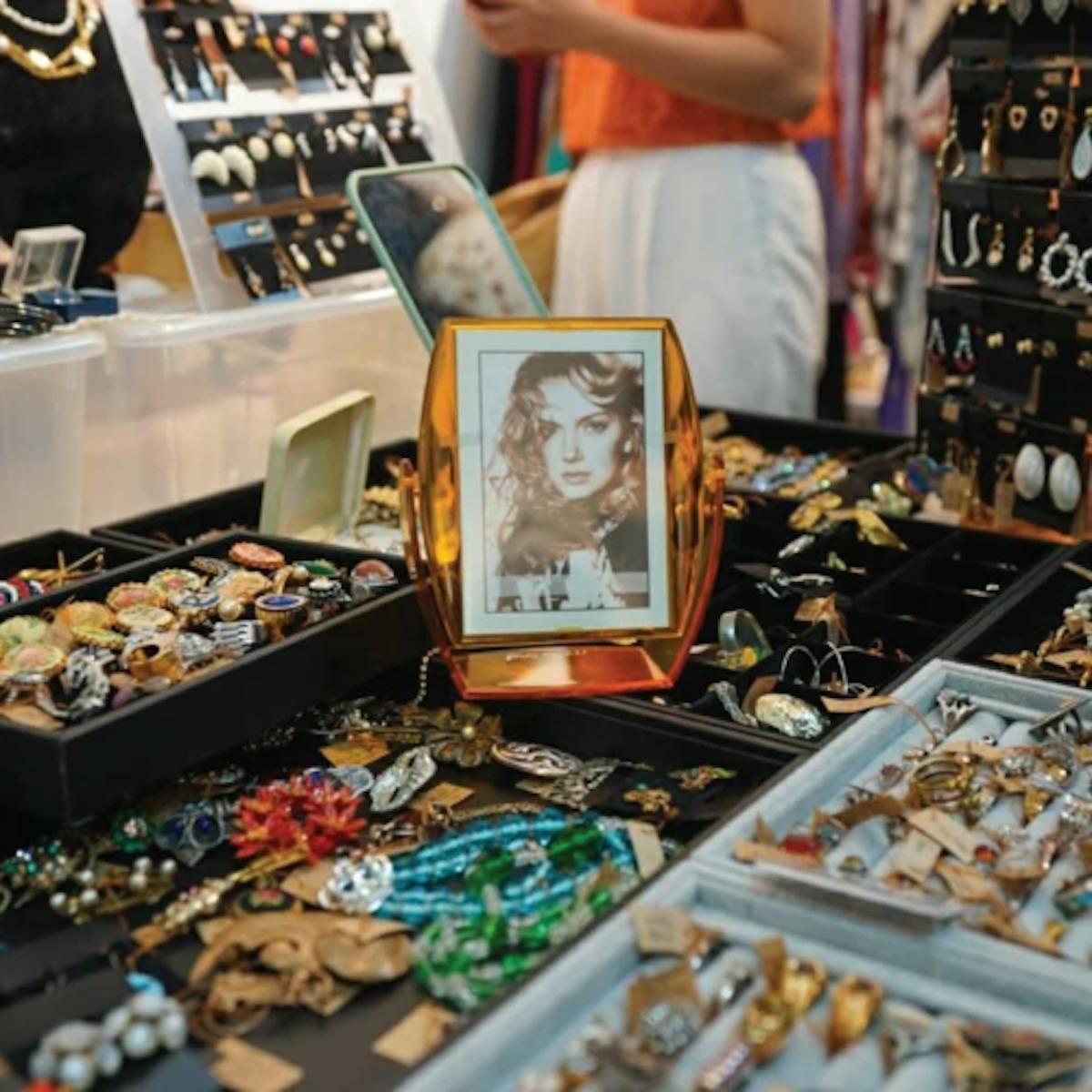 No Two Alike: Vintage Finds for Conscious Minds
There were two ways I could spend (and stretch) my dollar. The first: I could pretend the door did not exist and shove my wallet underneath my pillows and resist the urge to buy new clothes.
The second: I could give in to the call. The call to go green while being fashionable. The call to buy new clothes while recalling nostalgia of an age before social media. I could spend my Saturday at No Two Alike, a vintage market where I'd find authentic vintage clothing and items at affordable prices, and get to immerse myself in a crowd that had always intrigued me.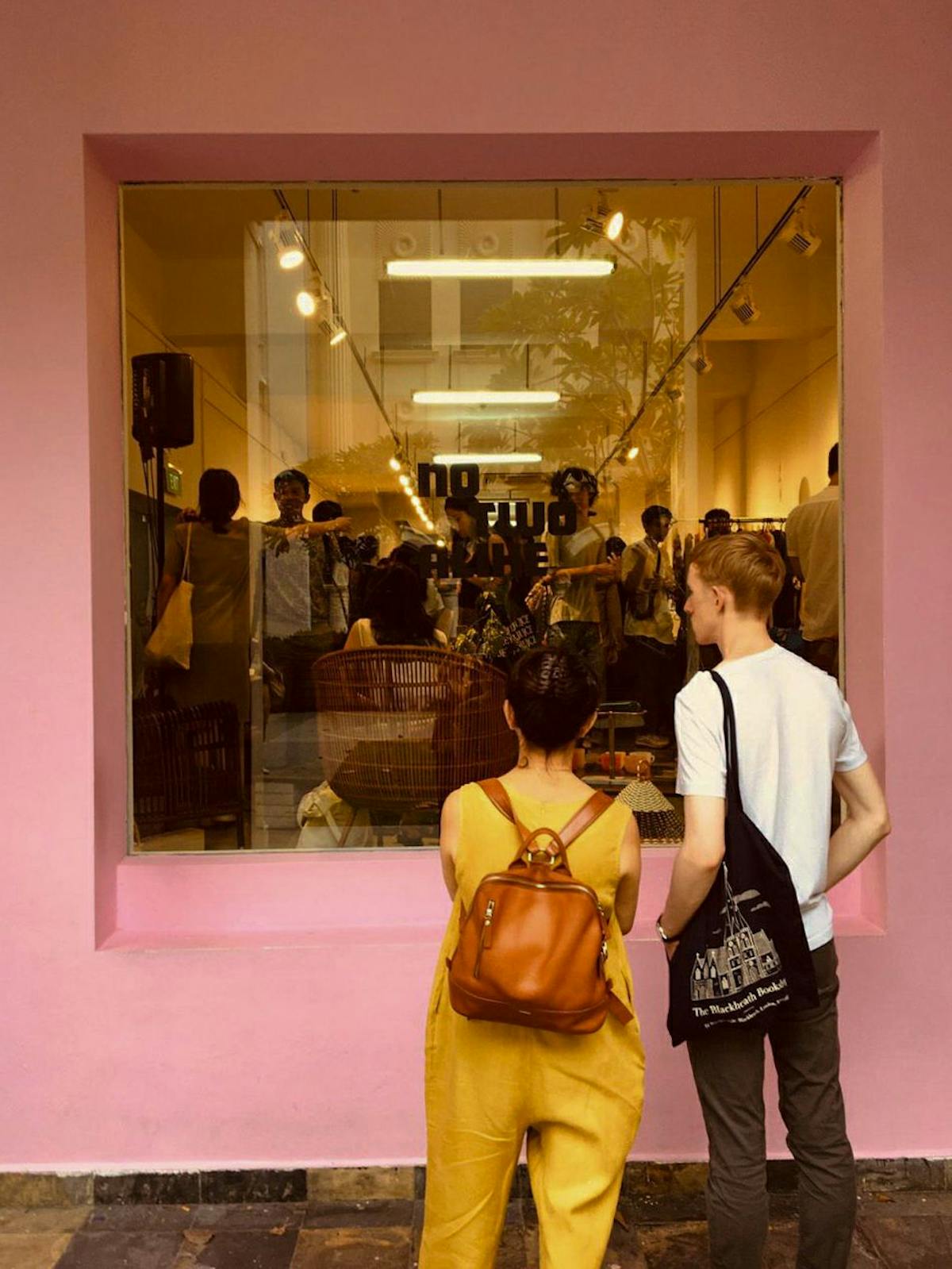 All photos by Athena Tan for Bobblehaus
Coming from an Asian household, the notion of buying clothing that had been worn by someone else prior to purchase was an unwelcome thought. When I bought my first vintage jacket from NTE Vintage, an Instagram store, my mom eyed the jacket and told me to hang it nearest to the door, in proximity of the exit of our home. But I've worn that jacket to death as it's been one of my best buys ever; over-sized, soft on the outside, warm and emblazoned with the largest 'NASCAR' logo known to man-kind, so I can show off about how I was a NASCAR potential. 
But even if I enjoyed falsely parading around the fast life of fast cars, there was something else I appreciated about vintage: that it was slow fashion. In a digital age where young people--digital natives--can do everything with immediacy, like sending WhatsApp or Slack messages regardless of temporal or spatial barriers, the one trend that has to do with being "slow" is the vintage appetite. And that might be a good thing, what with the environment being in a state of decline (to put things gently) due to man's past actions and present-day consumerist habits. The popularity of slow fashion could make an impact, and its promise has been unravelling before my own eyes in Singapore. My friends were selling or making Instagram purchases for vintage jackets, pants and collared shirts during our A-Level days in November. The funny story we'll be able to tell our grandchildren is that we did like to stress-shop and enjoyed retail therapy, but we managed to do so by bringing someone else's clothes home, indirectly cutting back on environmental damage, and effectively disrupting the quiet peace and tranquility of our Asian parents' preferences for Spanking New Clothes.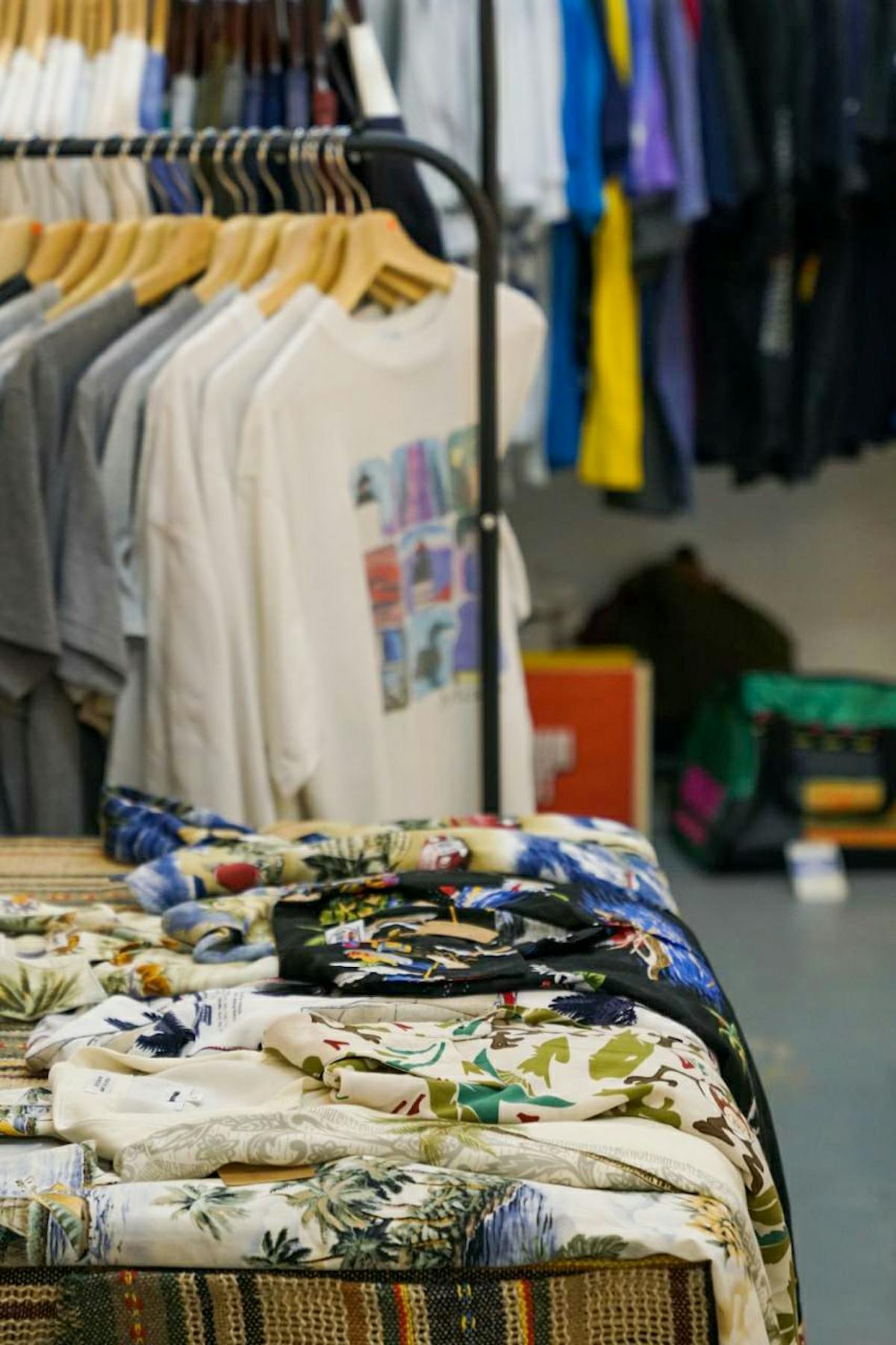 This Lunar New Year season, I see vintage clothing draped fashionably over teenagers' frames across the island, while their parents bristle at the sharp irony of the situation: Chinese New Year traditions include buying and wearing new clothes; and here we are, the prodigal children wearing old "new" clothes and proudly bragging about how stylish they look. 
To be clear, I chose to give in and go shopping. I gave into the allure of No Two Alike's vintage market with the intention of sourcing  a gem for a friend's birthday present, and to look at a wide array of jackets. Just look.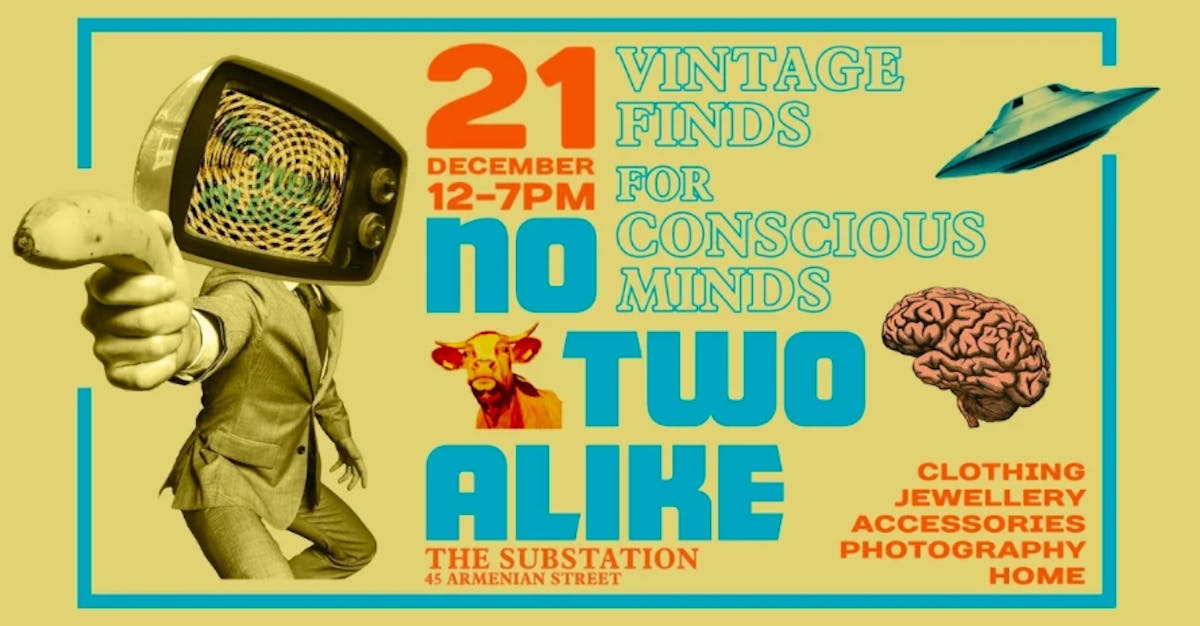 On the day itself, it was raining, but people still poured in by the numbers from neighbouring train stations, slowly milling into Armenian Street, huddled under umbrellas -- or in some cases, the hoods of their vintage outerwear. 
I had such a good time that I knew I had to reach out to Sam and Patrick, the duo behind No Two Alike, to find out why they had decided to bring throngs of young people together under the banner of an unlikely trend: The New Age of clothing, Vintage. 
Sam and Patrick - it's a pleasure to speak to you about vintage clothing and items. Why did you decide to start vintage markets - do they happen to be a personal passion and interest of yours? 
Sam: I really enjoy discovering unique pieces and styles that are no longer being produced. It's quite satisfying to know that chances are, no one else will be wearing the same thing as I am. I love digging through piles of clothes and browsing endless racks in thrift stores/flea markets because the whole process makes you feel more attached and have greater appreciation toward the clothes you own. 
I see! I love the idea of 'finding a rare gem,' because many young people have truly been inspired lately to commence their search for one-of-a-kind pieces that lend their entire outfit a uniquely nostalgic vibe. Having been in the vintage scene in Singapore for a while, what do you think of Singaporeans' reception towards vintage clothing and styles? 
Patrick: In my opinion, Singaporeans are increasingly receptive towards vintage/pre-loved clothing/items. A far cry from as recent as 5 years ago, when many still had the impression that second-hand clothes/items are dirty and inauspicious. These days, we are seeing a lot of younger Singaporeans shopping second-hand at thrift shops or vintage events. Surprisingly, we also notice some older shoppers at these events, which is nice to see.
Sam: I think that while most people are growing to like the style of vintage clothes, many are turned off by the thought of digging through hundreds of pieces (perhaps because of hygiene reasons or lack of time/patience) before finding something they like, so we wanted to make it easier and more accessible by organising a curated market, with brands that we think have some of the best collections in Singapore!
What's interesting about Singapore vintage is that many people tend to deal on online platforms while having physical initiatives or markets; some stores may conduct physical sales but regularly update their consumer base on stock and in-store events on Instagram. 
Did either of you begin with a Carousell account or by selling retro-style clothing on Instagram? If you did, did the platform over which you conducted sales (online / physical store) makes a difference in the sales you make, or the feedback you received?
 Patrick: I sell vintage t-shirts and sportswear on Instagram as Blast From The Past (@blastfromthepastvtg)! For that, physical markets tend to be better for me in terms of sales and reach. However, I have heard from fellow online sellers that online sales tend to be better for them, so it really depends on each individual store's strategy.
What motivates you to continue to bring people together - passion for the style of clothing, an environmental message?
Sam: No Two Alike was created out of a desire to bring different parts of the vintage community together and introduce people to the value of vintage and secondhand shopping.
I personally have been shopping vintage/secondhand for years without really knowing much about 'slow fashion' or the 'circular economy'. It was only in recent years with the growth of environmentalism that I started becoming aware of their positive impacts as alternatives to fast fashion. This knowledge actually encouraged me to make bigger commitments such as buying exclusively used/vintage clothing and on top of that, to buy only what I need. We hope that by spreading awareness of this form of conscious shopping, we can help encourage people to think about their consumption habits, and make small but impactful changes in the community!
Speaking of the subtle changes in consumer behavior - do you think that people's appetite for vintage clothing is just a trend or more than that?
Patrick: When I first started selling vintage clothes online, I felt that it was just a fashion trend that would last for a couple of years and die off after some time. But it seems like people's attitudes towards vintage and pre-loved clothing have been slowly evolving over the years. People are starting to realise the value of buying vintage/pre-loved clothing and misconceptions about secondhand clothing aren't as common as before.

Sam: I think it's more than just a trend! Nostalgia is universal and everyone has an appreciation for the past in one way or another, whether it's a childhood cartoon, a sports team, an old band, or an era of fashion. The difference is in which of these aspects we relate to, which makes us who we are. There are some brands out there that produce 'vintage-inspired' clothing, and I personally think that those aren't as popular because they lack the history and authenticity that comes with real vintage shopping.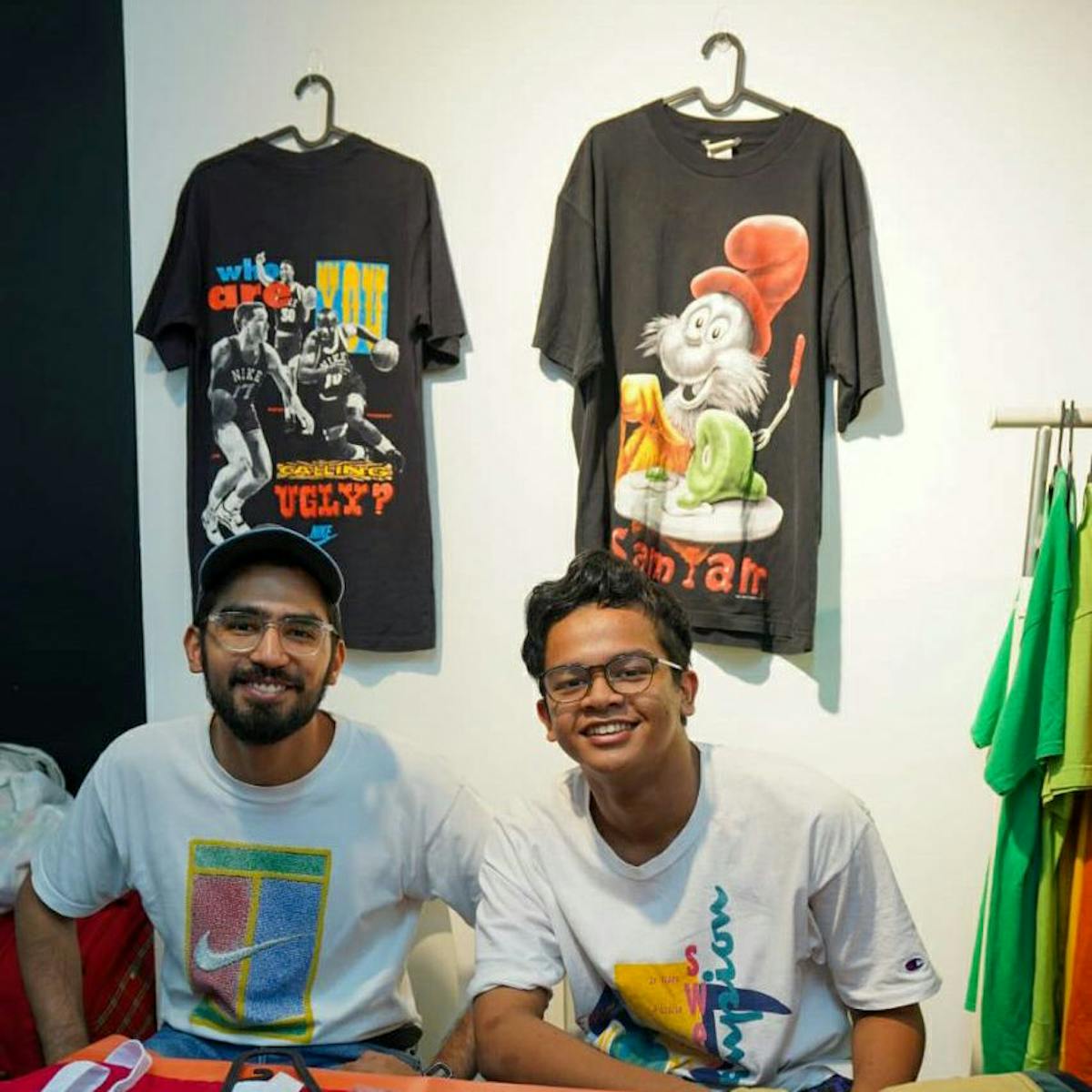 Sustainability and conscious living are concepts that have only recently started gaining traction, and I think it's great that they align so well with vintage shopping. It definitely encourages vintage-lovers to shop even more responsibly, while introducing something new (old?) to those who are not familiar with the scene.