AN INSIDE VIEW BY BH
RÊVEUSE VINTAGE: STAYING IN FASHION
No. 133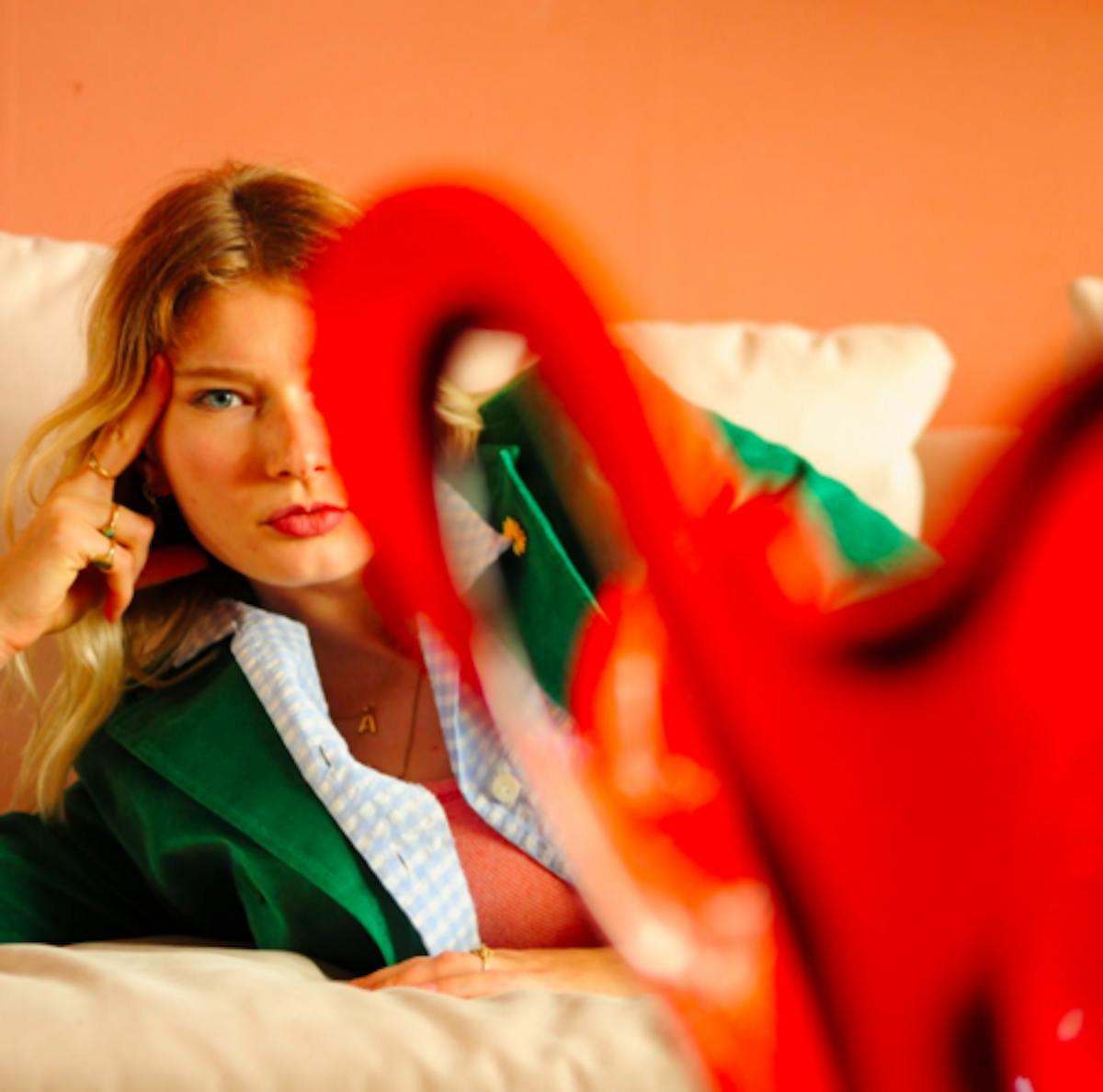 Anouk Océanne minding her own business in a pandemic.
Just as the clock strikes 11, Anouk Océanne is already greeting the first customers that arrive on the dot. Rêveuse Vintage's highly anticipated opening is finally here, but only after some unexpected twists and turns since her initial announcement on Instagram in September.
Though the weather turnout remains the stagnant overcast it has been in the past few weeks, the light pink facade cannot contain the bright peach walls gleaming through the window. Anouk's new storefront occupies what used to be a 'parfumerien,' but is now dotted with racks of curated vintage wear and ware.
Anouk Océanne, 26, is a former stylist and currently lives in Amsterdam with her cat and roommate Kiet. In her spare time, she loves gardening (making do with her Dutch balcony), reading, and cooking. In short, Anouk is a self-proclaimed "grandma trapped in a young body." 
Anouk spent the last few years working as a stylist, having been affiliated with brands and companies such as Vogue, Glamour, and Love Stories in the Netherlands, and working alongside other prolific stylists in Europe: Dimphy den Otter and Jos van Heel to name a few. While the styling line of work was mostly fulfilling, she felt like something was missing.
"I have been working as a stylist [...] for a few years now, I've met tons of really nice people, been able to travel, and work on such cool projects, but it's never really [been] sustainable."
Anouk found herself to be caught between a rock and a hard place, "It bothered me that in my personal life, I am super critical of my consumption habits and try to live as [sustainably] as possible, but [at work] I [am] forced to work with fast fashion clothing."
"I have [shopped] secondhand and [bought] vintage for as long as I was allowed to buy my clothes, so [it] comes [naturally] to me. I have always thought it was crazy that some people never 'got' how easy it is to get everything secondhand."
This very frustration prompted her to start her own business. With years of experience under her belt, it only made sense for her to combine her expertise with her passion. "I wanted to create a space where even those [who are] skeptical about second-hand shopping would feel like it was easy and fun to make sustainable choices."
Amsterdam has a longstanding second-hand and vintage presence. Despite there being a second-hand or vintage store at every corner in the ring, Anouk is confident Rêveuse Vintage will stand out amongst her competitors. What does it all come down to?
"Its curation," Anouk shares with confidence. "I make sure that every piece lives up to a high-quality standard; it is timeless yet also in the now. The shop is small, which makes it manageable to go through everything. Instead of searching for the good stuff, all the stuff is the good stuff."
At the same, Anouk makes certain that Rêveuse Vintage aligns with her own beliefs. She highlights the three notions she holds on to: "Honesty. Doing the best you can. Trying to make people happy." She adds, "I advise everyone [with] honestly, and would never push them to get anything. If it's not the right fit or color for them, I'll tell them. A big part of consuming sustainably is making the right choices, only getting what you love, and what looks smashing on you, then wear them for years and years."
Anouk opened Rêveuse Vintage just over a year ago, virtually, relying on sales by posts or stories, for the most part, though the store did make physical appearances from time to time, appearing at De Hallen for De Kloffie Markt. Anouk felt that having a physical storefront brings out a different experience that is unique to vintage. "Vintage has its cinderella moments: when you try something on and feel like it's made for you. You can't do that online." 
To Anouk, she describes Instagram as having been like a "twilight zone" for her, people would express their love through comments and direct messages, yet her only contact with them was limited to her solo cycling to the post office to drop off the orders, and never getting to meet the people.
She felt like a physical storefront is crucial for people to connect with vintage, "Lots of people were requesting if they could try stuff on, but I was not ready to welcome people into my living room. Especially with the quality [of] vintage I sell, the feeling of the fabric and trying it on can really make a difference, but is often hard to show [through] a picture."
While making her vision come to life, Anouk faces one last roadblock along the way, with the ongoing pandemic and rising numbers in the Netherlands, comes the many restrictions on what she can or cannot do. "The government press conferences are so scary. Just a week before I was going to open, we had one, and I just sat watching breathlessly hoping the stores could stay open" and luckily for her, the store opening could go on as planned. And to Anouk, that was the only rock hanging over her head, she is confident about what Rêveuse is and will become.
"I believe the vintage market is going to blow up [in] these coming years, as we all need to consume more consciously. If I can make it work in a pandemic, I can make it work anytime anywhere, so in that sense, it was more of a reassurance than a concern."

When speaking on what we could expect from Rêveuse Vintage moving forward, Anouk discloses that her interest in connecting with local social enterprises in hopes of making an impact on multiple levels. She hopes to include more educational aspects of sustainability, all whilst building a community beyond just "followers", but rather "an engaged group of people who want to make a difference". 
"In this sense, it's not just about vintage clothes, but it is a starting point for more."
"In this sense, it's not just about vintage clothes, but it is a starting point for more."