AN INSIDE VIEW BY BH
GOALS WHEN WE'RE 60 YEARS OLD
No. 41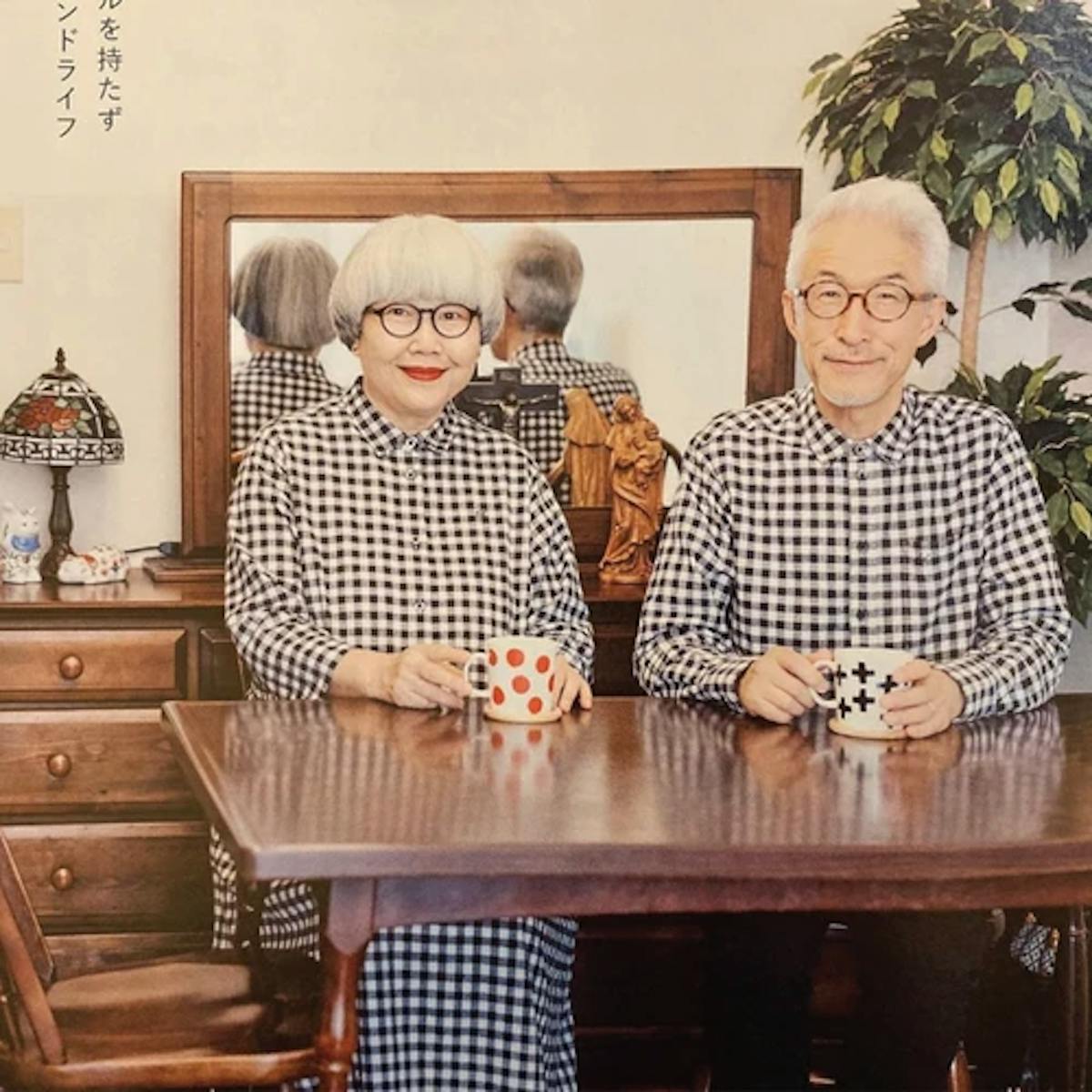 5 fashion influencers that defy what it means to grow old
EDITOR'S NOTE:
After we posted this article, two of the featured Instagrammers, @iconaccidental and @greceghanem responded:
"Please do not refer to us as grandmas and grandpas. Although I happen to be one, other older people on Instagram are not grandparents. I also don't like to be referred to as "seniors." I'm a person getting older just as persons at any age are."
We take this teachable moment seriously, and as our cohort of young writers (and editors) continues to shape and share their perspectives, we hope to, in time, become more self-aware cultural critics and commentators. The feedback we received was twofold. First, and most importantly, we realize that a "roundup of 'senior' fashion influencers" does little to combat ageism and more often perpetuates it. Our intention moving forward is a thoughtful deconstruction of personalities and identities, and how we can explore more interesting chemistries among different groups of people. Second, the "grandparent" label deserves more scrutiny. In many of our native languages (as some of us are of Sino heritage), the term "grandma" or "grandpa" refers to generational differences as much as familial relation. For example, we address any woman, strangers included, as "ayi"/aunt, or "jie jie"/big sister to convey warmth and respect. (In "Crazy Rich Asians," Rachel Chu addresses the mother of her friend Goh Peik Lin's mother as "auntie" even though they are not related). But we are reminded today that these translations don't always transfer context, and such terms are therefore not always appropriate. We are grateful for Lyn Slater's comments and hope BOBBLEHAUS can serve as an creative space for community growth, teaching, and reflection among the East-West youth. - LC
------
Influencers cover a wide array of categories. From food to fitness to fashion, there is a seemingly never-ending list of Instagram suggestions for who to follow. Though these topics are diverse, social media influencers are typically youthful. A quick look at the most popular influencers list would show that most of them are between the ages of 20-35, which aligns with the majority of Instagram users. Instagram has more than 1 billion users today, but 75% of them are between the ages of 18 and 24, with 90% of users under 35 years old. Most active users are also in the 18 to 29 year old demographic, making it no surprise that the most popular influencers reflect their very young audience.  
But this, too, is changing. Now that technology has made social media so accessible, there has been a new wave of grandmas and grandpas changing the scope of social media. Rather than limiting themselves to the traditional ideas of what an aging community is, there have been many older influencers who define their identities on their own terms. While the Instagram demographic of users over the age of 50 is only 5%, the effect that these influencers have had on the applications reach far beyond their presence on the app. With ripped grandmas, grandmas who model, grandmas who bake, and grandparents who wear matching couple outfits, there is a wide variety of influencers breaking conventions in all sorts of ways. Fashion is one of these avenues that they have broken into with unique and progressive styles. From streetwear hypebeasts to polished and chic bloggers, these influencers are anything but mundane. Each different in their message and style, these grandmas and grandpas make us wish we could be as cool as they are now.
 And as we are spotlighting these very stylish grandmas and grandpas, let's heed the reminder that style is ageless and timeless, and that we should, as each of these influencers suggest, abandon the idea that we have an expiration date after we reach a certain age. They don't just offer us good vibes and truly great outfits, but remind us to stay true to ourselves at every season of our lives. After all, fashion is about confidence and acceptance, isn't it?
Moon Lin
Moon Lin describes herself as a 91 year old moon light fairy in her Instagram bio (to which I offer no counterargument, because she is, indeed, quite magical). Pictured on Instagram wearing brands like Supreme, Kith, and Y-3, Lin quickly rose to popularity with her street style and cute poses. Often pictured smiling, waving, waving a peace sign, or in a fluffy bunny hat, Lin exudes a sort of contagious lightheartedness. Relaxed and fun, Lin seems like the kind of grandma you'd want to go to the supermarket with at 6am and a poetry reading at 11pm. With a book published as recently as August 2019, she shows no signs of slowing down with how quickly she's taken over our Instagram hearts. The book, aptly titled the slang term  of "model" in Chinese, presents Lin's autobiography through photographs and musings through her years of life. The book, like Lin's Instagram, shows Moon's carefree, fun-loving nature and her reminder not to take things too seriously. The best thing about Lin's Instagram is that it's not just streetwear, but a humorous collection of her life too. 
If there ever was a true natural at modeling and styling, Tetsuya is probably it. Silver Tetsuya became an Instagram sensation entirely by chance (which could probably be said about all those on this list, actually). A retired Chemistry teacher, Tetsuya quickly became viral after his grandson went home to Akita to visit during his holiday. What began as a way for his grandson, Naoya Kudo, to spend quality time with his grandpa on vacation quickly became a full-fledged influencer account. Kudo decided to photograph his grandpa on a whim, but after seeing Tetsuya's surprising enthusiasm about the process, they began a longer project of styling clothes and picking photoshoot locations. Though dressed in his grandson's clothes, Tetsuya has a clear natural confidence that oozes through each photograph. Kudo's sharp, clear photographs also perfectly complement Tetsuya's direct gaze, and together they highlight Tetsuya's powerful and ever-present energy. His effortlessly cool vibe radiates in each post.
Lyn Slater's Instagram is polished, contemporary, and bold--just like her style. Previously a professor at Fordham University's graduate school of social service, Slater eventually left her academic position to work on her blog,Accidental Icon, full time. Slater's thoughtful approach to fashion makes her stand out from the typical influencer, as she not only discusses clothes but politics, society, and what it means to be a woman. She is also anti-anti-aging, going against ageist conversations and other outdated ideas about  what it means to be an "older woman." With her signature bold circular earrings, Slater's looks are eye-catching even when she wears a simple sweater and some sneakers. For someone who has worked in academia most her life, fashion offered Slater a different way to convey herself to the world and to be thoughtful about how to do so. Not only does Slater advocate styling from the inside out to express who you are, but she also seeks to be accessible and authentic to people. It's clear that Slater knows herself inside and out, as her style seems to somehow reflect exactly what she wants it to--interesting, intentional, and real.
A microbiologist turned personal trainer, Grace Ghanem too saw fashion as a source of creativity in her life. Now, she is photographed and managed by her daughter Cheyenne, posting Instagram pictures that are not tagged with brands to highlight the fact that she truly lives in and loves her clothes rather than trends. Often pictured in bold patterns or flowy dresses, Ghanem's style seems simple and balanced because it is true to herself. To Ghanem, fashion is about acceptance—she pushes to invest in timeless pieces for sustainability and to test her creativity. Her sleek but comfortable outfits—from a slip dress to a perfect white-on-white summer look—offer a reminder that style is about what you feel comfortable in. It is only through being comfortable with yourself that you can exude confidence through your clothes, and Ghanem's Instagram is a great reminder of that.
Jannik Dienfenback photographs his grandpa, Aljoz Abdram (aka gramps), sitting more often than not. Perhaps he usually sits because Abdram just seems so chill—just hanging out, decked out in streetwear. Abdram lives in a small town called Mainz near Frankfurt, Germany, a place where streetwear isn't huge. Despite that, Abdram's interest in streetwear grew after seeing his grandson's clothes, which sparked his interest in streetwear. He liked that the clothes popped and liked learning the meaning behind how brands began and grew, diving deeper into the hypebeast culture. Seen wearing a Thrasher hoodie or Off-White sneakers, Adbram's cool, easy-going energy draws his audience in immediately. With parody posts like Abdram imitating Kanye's outfits and stance or couple pictures of him and his wife, Abdram's Instagram also adds a touch of humor and sweetness to the usual outfit pictures, creating a perfect balance.