AN INSIDE VIEW BY BH
THE IMPORTANCE OF ART DURING A REVOLUTION
No. 110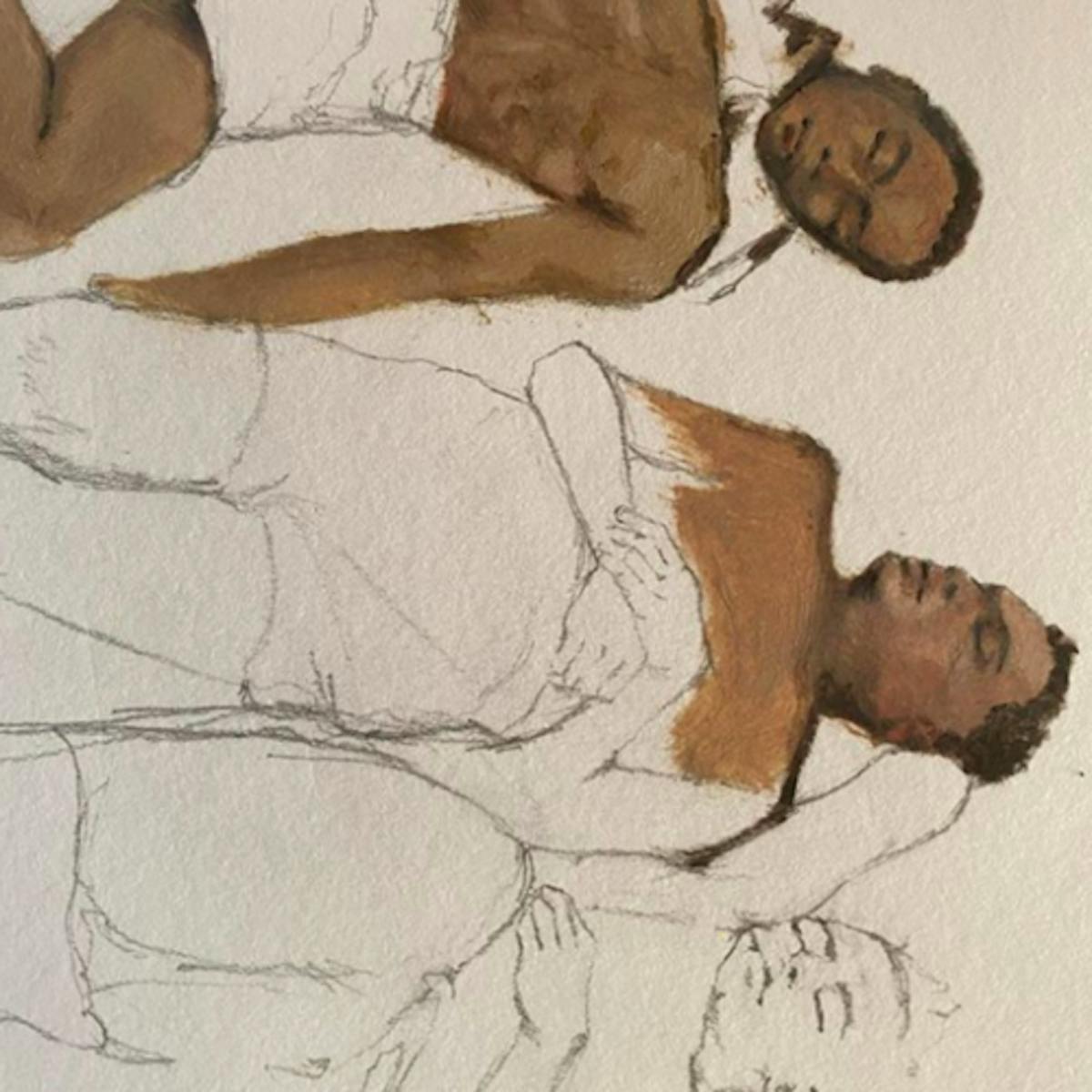 The power of imagery in depicting racial injustice. 
Political activism isn't always thought of as a powerful impetus for artistic expression. During the Civil Rights movement, the key activists -- Martin Luther King Jr., Rosa Parks, Malcolm X -- were heralded for being dynamic orators, community leaders, and organizers. Other notable names might be politicians or religious leaders, but rarely are they identified, first and foremost, as artists. In fact, there has been great debate over the role of art in activism: is it a viable medium for change, or is it just a distraction from the core missions of a movement? With the current movement for racial equality, catalyzed by the police murder of George Floyd and amplified on visual platforms like social media, however, it has become clear that art is not only a medium, but an important tool for meaningful critique, reform, and reimagination. 
Perhaps there is great pushback on art being seen as a productive method of change, because art -- especially fine art -- has been traditionally exclusive. To be able to enter institutions like The Metropolitan Museum of Art and to be able to join inner circles of artists, was often exclusive to wealthy white people. And in terms of the content of art, the few times the Black identity was depicted, it was done so under the guise of colonization and oppression -- not celebrating the Black body, but malforming and manipulating it as unbeautiful. Art, therefore, can be harmful, relying on social-cultural capital and oppressive hierarchies to determine its value. 
However, a revolution in the era of social media has allowed for the restructuring of art -- not as something belonging to the white elite, but as a medium reclaimed as accessible, universal and an important means of representation. Social media has helped highlight a particular method of organizing, educating, and spreading awareness through its visual vernacular. Users on platforms such as TikTok and Instagram are taking advantage of social media to share important facts and information regarding the Black Lives Matter movement. 
Social media has encouraged a new format of activism: stylized graphics -- which are often more attention-grabbing and universally comprehensible. On Instagram, designers have been making aesthetically pleasing typography edits of slogans relating to racial justice and ways to take action towards racial justice for others to repost and share. Understably, critics have declared these efforts to be a sad reflection of our morality -- that we need such crucial information to be packaged in aesthetically pleasing ways to be shareable. The reality is that for too long many of us have had the privilege to avoid being political in our everyday lives. In our relearning and our entrance into understanding how there is no separation between politics and life for Black communities, many of us can only digest spoon-fed information in the form of aestheticized political messages. While this is an important piece of self-reflection we need to consider, the designing of such information has the possibility to contain additional layers of meaning through colors, symbols, and other design choices. Most importantly, the work of Black creatives deserve to be widely shared: to showcase their demands on their terms and to be recognized for their artistic talents and creative direction.
Art also humanizes both its creator and its audience, allowing us to understand issues beyond facts and figures, but with the additional dimensions of emotion: irony, devastation, sarcasm, heart. There have been a lot of cartoons that really help capture the essence of particular issues. For example, cartoonist Liz Montague created a cartoon of two black women making a BLM poster while one of their phones is repeatedly ringing with notifications. The caption of this scene reads: "Just ignore it -- my white friends keep checking in on me because they think racism is new." Rather than simply calling out white people for the tardiness in their awareness, this cartoon deftly captures the exasperation of Black people as their non-Black friends and peers wake up to a struggle that has burdened Black people their entire lives.  
Fine art may not traditionally contain informational text or cheeky captions like the work of contemporary designers and comics, but they can have extremely poignant messages to appeal to our sense of empathy and shift our visual norms. PhotographerJon Henry's series "Stranger Fruit" shows the "grief and loss of the African American community in reaction to America's endemic police violence." Each photo in this series depicts a Black man's body, laying limp, held and surrounded by his family members. These photos emanate with the fear and pain that Black families have when they don't know if their sons will return home to them each night. This series is intimate and emotional, allowing us to see racial injustice and police brutality from a raw, personal perspective.
"At the same time, fine art and photography have been used to amplify and celebrate Black beauty. The white gaze has long permeated visual culture -- with our perceptions of beauty stemming from the Western and white-dominant creative industries."
At the same time, fine art and photography have been used to amplify and celebrate Black beauty. The white gaze has long permeated visual culture -- with our perceptions of beauty stemming from the Western and white-dominant creative industries. However, Black creatives have always used their work to reclaim this beauty. A few months ago, a trend called the #VogueChallenge originated on TikTok, in which Black users reimagined their own versions of Vogue covers. During the Black Lives Matter movement, this trend became even more meaningful, especially as Vogue came under fire for its lack of diversity and poor treatment of BIPOC.
It's fun to imagine more Black Trans people on the cover of magazines. It's even more fun to think of magazines hiring Black trans and gender-expansive visual narrators to do the work. #VogueChallenge

Tashan Lovemore on the left. Dash and Devin N. on the right. pic.twitter.com/0ix3m6S6zp
— Texas Isaiah not Texas (@TexasIsaiah) June 10, 2020
In Vogue's 125 year history, there has only been one Black photographer to photograph a cover, while very few Black models have been on the cover itself. This challenge has allowed Black creatives to break through the exclusivity of Vogue's platform, as well as remind everyone of that exclusivity. By  incorporating themselves onto these covers, the challenge positions itself as a stark reminder that Black people have had to take matters into their own hands since mainstream publications like Condé Nast and Vogue have greatly failed them. Their beautiful covers offer a glimpse of what powerful gatekeepers have deprived us of, critiquing both the injustices perpetuated by these institutions and the foundation of these institutions themselves.  
As Toni Cade Bambarayou says, "the role of the artist is to make the revolution irresistible." Art is absolutely crucial in powering a movement -- particularly in the fight for Black lives. Art implicitly strikes our pathos as non-Black allies;  for Black artists, art can be a form of subversion and healing. Every creation - whether a photoshopped Vogue cover, photograph, digital design, or splattered canvas - holds within it layers of its maker's lineage, experiences, histories, struggles, fears, and triumphs. Black art is Black history. Art, then, must necessarily be inclusive if it is to represent human history. 
"I challenge everyone to think about diversification and representation in art: in the way Black people are portrayed by non-Black artists versus how Black artists have chosen to portray themselves."
To start, here are some noteworthy Black creatives to follow:
Kimberly Drew (@museummammy) is an art curator and writer who amplifies black art. She was the former social media manager for the Metropolitan Museum of Art and curated the White House's Instagram account during their South by South Lawn festival. Kimberly recently released her first book "This Is What I Know About Art," which highlights the link between art and protest. 
Edward Enninful (@edward_enninful) is the Editor-in-Chief of British Vogue. He works to make the magazine one that celebrates diversity and amplifies Black voices. 
Pat McGrath (@patmcgrathreal) is a makeup artist who owns an eponymous makeup brand. She has been deemed the most influential makeup artist in the world. 
Nadine Ijewere (@nadineijewere) is a photographer based in London who became the first woman of color to photograph a Vogue cover. Her work is inspired by her Nigerian and Jamaican heritage. 
Kitty Ca$h (@kittycash) is a DJ, producer and music executive. Her work transcends any one genre by blending together elements of hip-hop, R&B, pop, reggae, and dancehall.  
Tyler Mitchell (@tylersphotos) is a photographer and filmmaker who is best known for being the first African-American to photograph the cover of Vogue, as well as one of the youngest to do so. His work aims to visualize "what a Black utopia looks like or could look like."  
Indya Moore (@indyamoore) is an actor and model, as well as an activist who works to achieve visibility for transgender people in media and in our everyday lives. 
Sharon Alexie (@flammedepigalle) is a model and artist who has modeled for brands such as Dior and Calvin Klein and works with oil painting. She is also an activist in the movement for racial equality in France. 
Andre D. Wagner (@photodre) is a photographer who captures the lives of communities of color in New York City. Wagner has said about his work, "I have a point of view and, as a black man in America, having a point of view is innately political. My goal is for my photography to be written in American history."
Gabrielle Richardson (@fridacashflow) is a model, artist, activist, and the creator of the Art Hoe Collective. She fights for better representation in art and fashion, with her organization Art Hoe Collective serving as a safe space for artists belonging to marginalized groups. 
Alima Lee (@alima_lee) is a filmmaker, designer, artist, curator, and DJ who focuses on identity and intersectionality in her work. She works to advocate for black queer femmes. 
Renell Medrano (@renellaice) is a photographer who is influenced by her Dominaican-American heritage.